Brits own the most land in Dubai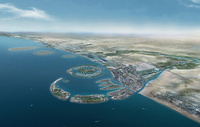 Who says that the British are struggling financially? There may be a credit crunch and house prices are continuing to fall, but the smart UK money is now in Dubai; latest figures from the Dubai Land Department show that British companies lead the field when it comes to land investment, with 147 companies in total now owning 1,900,000 sqft of prime real estate land in this burgeoning market!
Oliver Hickey UK Sales Director of Mayfair based Profile Europe (UK) Ltd said, "British companies are now the number one overseas investors in land in Dubai and have recently overtaken Indian investment companies who collectively own 862,000 sqft. Effectively, by breaking down the UK's 1,900,000 sqft of land we see that each British company now owns on average, some 12,925 sqft which dwarfs Indian investors who currently average some 6,986 sqft of land each. The fact that UK companies now top the land list in Dubai is also a reflection on just how many private individual investors there are from the UK. This is further proof that although the UK markets are struggling there are alternatives and Dubai is by far, the most popular."
Profile Europe (UK) Ltd currently has properties under construction in Dubai Sports City, The World and Dubai Waterfront. They also have full access to hundreds of properties in and around the city, so they are perfectly placed to find property that suits individual's requirements.
With such a commercial presence in Dubai, Profile are also able to offer both finished and off plan commercial premises starting from single offices to full floor and building sales. Their ability in this sector also extends to the resale of commercial premises and they have a dedicated team available to provide experienced and efficient managed leasing.
Profile Europe (UK) Ltd is currently marketing properties in Dubai which start from just £110,000 for a one bedroom apartment.
For more information, visit profile.ae.