Dubai - On the right track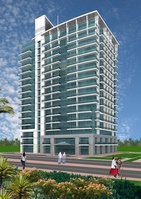 Another first for Dubai! The new £2 billion Metro Railway was recently successfully tested, confirming its official launch for September 2009 with full completion due by 2012.
Oliver Hickey UK Sales Director of Profile Europe (UK) Ltd said, "The Dubai Metro upon completion will add yet another dimension to this rapidly expanding metropolis. The recent tests conducted on the Red Line on Shaikh Zayed Road, were met with wonderment by UAE nationals with many stopping on the roadside to witness for the first time the shape of things to come. With such a growing population, it was imperative that a transport system capable of catering for the transportation of hundreds of thousands of people was instigated at an early stage and in true Dubai style; this £2 Billion project has certainly made its mark."
In total the Dubai Metro will facilitate 47 stations incorporating a Red Line and Green Line, with elevated and underground platforms. With construction and maintenance continuing at a tremendous pace, it is anticipated that all elevated stations on the Red Line will be completed by 2008 with all underground stations expected to be complete by 2009. Based very much on a park and ride theme, numerous car parks are being constructed to accommodate thousands of cars at various stations along the lines and will help alleviate congestion.
Tailor made trains from Japan with interiors carrying a water and air theme offer three classes of travel. There is Golden Class, which will have a luxurious interior with leather seating. Woman and children's class which will offer additional space for strollers and bags and Silver Class for the economy traveller which will offer a selection of seating either for admiring the views or for chatting with other commuters. With attention to detail and compartments fitted with audio visual devices, those that have only travelled by British Rail may feel a little in awe to begin with!
For more information, visit profile.ae