Renaissance expert commissioned for Dubai Sports City's North Point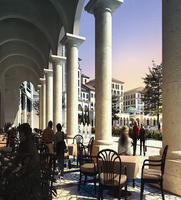 Dubai Sports City, the world's first integrated sports city, has commissioned a Renaissance expert to ensure the authenticity of the Venetian themed architecture of the development's North Point commercial, residential and retail precinct.
Art historian Professor Daniele Morelli is using his Renaissance expertise to cross reference the architectural plans for North Point with official studies conducted on Roman and Venetian architecture.
On completion of the plans, it is expected that a team of artists and masons who specialize in Venetian restoration and architecture will arrive from Italy to assist the appointed construction company.
Khalid Al Zarooni, President of Dubai Sports City said: "The knowledge and attention to detail that Morelli captures is extraordinary. We believe you would be hard pressed to find anyone else with the depth and breadth of understanding that he has."
The waterside retail district will encapsulate the architecture and essence of Venice, the city that some believe to be the most romantic in the world, and will provide UAE residents with a one-of-a-kind lifestyle experience.
"It is easy to understand why people fall in love with Venice – it is the most beautiful city built by man. Venice reflects an irresistible enjoyment of life through its people, architecture, and culture. This type of lifestyle is a gift and I'm happy to recreate it for the residents of Dubai," said Morelli.
The fabric of Venice is made up of self-contained communities built around a Campo (Square) buzzing with local markets and activity, and ground floor shops which line the Palazzi (Palaces) surrounding the Campo.
North Point's Palazzi will be created in the form of three elegant atriums, housing commercial offices, boutique stores and cafes. The atriums will lead to waterfront restaurants, where in the cooler months, seating will be available on the promenade creating a Riviera-style setting. A large landscaped courtyard – the Campo – will link North Point to Dubai Sports City's Arena Mall, Stadia and the adjacent commercial and residential establishments.
"Professor Morelli is working closely with the architects to ensure that the retail and commercial buildings, the waterside al fresco cafés and restaurants, even the lamp posts and manholes reflect the beauty of traditional Venetian architecture," added Al Zarooni.
Professor Daniele Morelli was born and raised in Tuscany, an area renown for its Renaissance art, culture and landscape. Heavily influenced by his surroundings, Morelli studied at the prestigious Accademia delle Belle Arti in Florence.
Morelli's work first appeared in Dubai in 1976 and over the years he has continued his relationship with the Emirate in both an educational and architectural capacity. More recently his work can be seen at The Westin Dubai Mina Seyahi Beach Resort & Marina where he designed all the interiors by hand.
North Point will be the heart of the vibrant downtown district and will offer approximately 210,000 square feet of leasing space across 92 units. The precinct will service 47 waterfront residential and commercial towers. Visitors will experience an appealing combination of high-end casual dining, outdoor seating, boutique shopping, with a Riviera-style atmosphere.
South Point, Dubai Sports City's second retail and commercial hub, will offer a premium dining and shopping experience. Located in close proximity to the sought-after Victory Heights golf course villa community, and anchored by Dubai Sports City's boutique hotel, South Point will offer a range of premium brands, boutique shops, and first-class restaurants.
For more information, visit dubaisportscity.ae