Sheikh Maktoum predicts the UAE economy to grow in 2009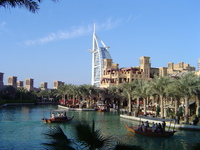 HH Sheikh Mohammed bin Rashid Al Maktoum, Prime Minister and Ruler of Dubai, believes that the economic crisis that hit the UAE in the last quarter of 2008 is petering out with the worst of the crisis now behind them. With other major economies still experiencing a downward spiral, confidence is returning to the UAE.
Jonathan Barrett Investment Director for Equita Global said, "Comments made by Sheikh Mohammed in the last week have been warmly received and there is a growing air of confidence throughout the region. With one of the worst global recessions to date still plaguing many countries it is uplifting to think that the UAE is heading for calmer waters. However, despite this welcome news, people are acutely aware of just how hard the economic impact was and realise that any growth this year however small will be a significant achievement in view of the wider picture."
The property markets of the UAE have undoubtedly been one of the biggest losers of the global recession. Confidence in the last quarter of 2008 and the first quarter of 2009 hit depressing lows and property price declines were evident for all to see. With many projects put on hold, numerous developers going into administration and customers defaulting there has been a significant loss of confidence. News of a prediction in the growth of the economy will come as a relief to the property industry and will undoubtedly be the catalyst that gets the industry back on track. However don't be fooled into thinking that the property industry is dead and buried, far from it; many of the stronger and financially secure developers are taking advantage of the recession to construct 5 star developments at a time when building materials and labour are at their lowest for years.
There are many other positive drivers. Corporate results by UAE companies have surpassed expectations with many indicating positive growth. Oil prices have steadied and remained strong at $50 a barrel for some weeks; however as US oil reserves begin to deplete, the price per barrel could rise by $10 to $20. Perhaps one of the biggest factors is the new found confidence in the Dubai Finance Market and Abu Dhabi Securities Exchange which have both experienced strong trading compared to previous lows. Expectation is growing.
Jonathan continues, "His Highness's comments on the UAE's predicted economic growth for 2009 will spread and with many other world markets still financially unviable for many investors, the UAE will again benefit from foreign investment. Sustained foreign investment is paramount to the region yet it also seems assured in lieu of other countries current plights with their economies still declining."
For more information, visit equitaglobal.com