Green light for Alanya International Airport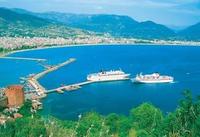 After ten years of speculation, the beautiful city of Alanya – southern Turkey – has been given the green light for its own International airport, to be operated by Turkey's leading airport contractor and operator, TAV Airports Holding.
The airport, at Gazipasa –, which was previously completed in 1999 - will be further developed by TAV Airports Holding, who are responsible for the operation and management of Istanbul, Ankara and ?zmir International Airports in Turkey and will transfer its know how and experience to Gazipasa Airport.
Gazipasa Airport is a mere 33km from Alanya city centre and will be fully operational by mid 2008. In a recent statement from the CEO of TAV Airports Holding, Dr. ?ener, stated that TAV Airports Holding aimed to maximise the passenger capacity of Gazipasa Airport with a new investment and to make it an international airport serving Alanya and the surrounding region by extending the runway of the airport.
Currently those visiting or holidaying in Alanya, a city that dates back more than 3,000 years, but which fuses historical culture with modern day amenities in a natural and complementary fashion, fly to Antalya international airport – a 90 minute car journey. The new airport will cut the post flight travel time to a mere 20/30 minutes.
Sean Gillic, MD of TPI Turkish Property Invest , the leading international property developer in the region said, 'This is exceptional news for Alanya and for all those who have and who intend to invest in the Alanya property market. Capital appreciation for Alanya City over the past 5 years has averaged 13% to 15%p.a, but such an injection of people – be it those wishing to rent or potential purchasers is likely to fuel the market and enhance the investment potential of the area.'
Gillic is not wrong, as his company alone has witnessed increased sales activity even before the airport contract was confirmed and merely a rumour. British buyers, sensing an opportunity to 'cash in' have 'kept the phone lines red hot' according to Gillic, who's company recently launched the highly acclaimed Obasaray 4 development – 70 two bed apartments & 15 four bed duplexes - in the investment area of Oba and which has witnessed intense interest since the afore-mentioned rumours took hold.
Anticipating the airport development, Gillic purchased significant trenches of land that he is currently developing within Oba – a mere 4minute car ride from the city centre and according to locals is 'the area in which to buy'.
The one question on peoples' minds is whether Alanya is ready for such an influx of tourists, potential property investors etc. The answer is a definitive yes. Not only has the city welcomed foreigners and integrated them into their community for thousands of years – as a strategic trading port the city has seen more invasions than most of us have had overseas holidays - the city's livelihood is based on tourism and it is an industry in which the Turkish hospitality excels.