Subsidised property inspection trips to Alanya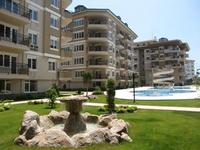 TPI Turkish Property Invest, international developer in the southern Turkish city of Alanya, has launched it's latest initiative – up to four day subsidised inspection trips to visit its latest residential property development – Oba Saray 4.
For a mere £150 per person, potential UK buyers receive return flights to Antalya - with airport transfers - hotel accommodation plus breakfast and dinner.
The concept of subsidised property inspection trips is, of course, not a new one, with many overseas developers now offering such an option, so is Sean Gillic, MD of TPI Turkish Property Invest, not worried that unscrupulous people will simply take advantage of the offer for a four day holiday?
'Whilst many people in Britain are aware of other cities in Turkey – Istanbul, Bodrum, etc, Alanya has, until recently, kept its charms a fairly well kept secret. This was a strategic move – to publicise its attractions as and when it was ready to do so,' said Gillic.
'Making this offer available to all prospective UK purchasers is a way in which we can present not just our properties, but everything that this beautiful city has to offer. No, we are not worried that some people will try to 'take advantage' as each trip is carefully tailor made by a highly qualified team, according to the requirements of each visitor. It quickly becomes evident if someone is trying to 'pull a fast one'.
Oba Saray 4 is a secure development of 70 two bed apartments and 15 luxury four bed duplexes in the highly desirable Oba area. Completed to the highest finish, the apartments, which range in size from 75sq.m – 155sq.m, each have large balconies overlooking beautifully landscaped gardens. Oba Saray 4 also incorporates a 250 cubic metre swimming pool with state-of-the-art aqua slide, tennis court, gymnasium, restaurant/snack bar and barbeque area.
In addition, Alanya's first International Social Centre is located within the development. The Centre has been devised to provide residents with both recreation facilities – table tennis, sauna etc – as well as an activities venue where dance and linguistic classes, card games etc can be held – in the true sense of the word, a place where residents can 'socialise'.
Alanya's 3 newest shopping centres - Carrefour, Metro and Tesco/Kipa - are all within 600m of the development, whilst a 10,000sq.m shopping centre, with everything (including the kitchen sink!) is just across the road. Whilst Oba has a reputation for being the 'best' property investment area within Alanya, it also presents a genuine 'lifestyle' environment, with Oba Boulevard playing host to a large number of local and international cafes, bars and restaurants.
If that were not enough to entice the UK purchaser on an inspection trip, Alanya has just been granted its own international airport at Gazipasa – a mere 20/30 minute drive from the city centre. The airport will be fully operational by mid 2008, and with 3M travellers expected to pass through the airport in the first year, knowledge of Alanya and its extremely reasonable property prices won't be a well kept secret for long.
Turkish mortgages are available on all apartments.
Prices: From £56,000 to £65,000
For further information, visit turkishpropertyinvest.com.