Values rising at an unprecedent scale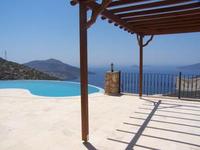 Kalkan is the new "hot spot" to invest in Turkey. It is rapidly becoming a place for sophisticates seeking authentic Turkish culture and tradition within a country that is being highly promoted by its Government as a tourist destination.
"The Turkish Government is providing unparalleled publicity for its emerging country appreciating that its warm, clear waters, beautiful countryside and easy access from the UK is a whole new experience for holiday makers and in turn homeowners", says Robert Nixon, Director - Nirvana International.
"Kalkan is exceptional because it is becoming a niche market. There is very little land available for new build, in this starkly beautiful part of the coastline which in itself makes it desirable. In addition the beautiful marina draws in a certain calibre of owner. Add to this the unprecedented rate of increase in value of properties in the region and soon Kalkan could become the new Marbella but in a smaller, more chic sort of way."
Certainly the properties being built in the area are of an exceedingly high calibre such as Villa Superior which sits in the hills with spectacular views of the shimmering sea.
Just 250metres from the beach, the property benefits from three bedrooms and three en suite bathrooms, open plan kitchen and lounge plus sun terrace, kitchen and private infinity pool. The view is spectacular.
The property is finished to the highest standards and has an open fireplace, stone bathroom vanity tops, marble floors and granite work surfaces in the kitchen..
Kalkan resort is within easy reach and offers quality seafood restaurants, local bars, boutiques and an overall ambience of quiet sophistication. There is a small, select beach a little further along the coast. This is not an area of conurbation and the lay of the land makes this highly unlikely in the future. This is an area of wooded hillsides dotted with pretty abodes.
Concluded Robert, " Turkey has much to offer for all tastes. This particular area is rather special and yet even this luxury villa is still under £400,000. Rental in the high season would be around £2000 per week."
With property values in Turkey showing an increase of 40% in the last two years there is much to be said in owning a property and an investment in this area. The Turkish Government are keen to support growth and by building new roads and motorways and increasing the number of chartered flights, have opened up an exciting new area for the British who increasingly continue to move abroad for a totally different way of life.
For further information, visit nirvanainternational.com.