Scape Design to create landscape for residential scheme in Turkey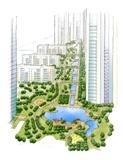 Award-wining landscape architect Scape Design Associates has been appointed by MESA Group to create the landscape for 'Parkoran', a new 17 tower block residential development overlooking a pine forest and the nearby Golbasi Lakes in Ankara, Turkey.
Situated on a 12-hectare site, Parkoran is set to provide homes for over 8000 residents. In addition, 336 live-work apartments are being included within the scheme. The project, which is currently under design development, is due to start on site in 2008.
Built largely over car park podiums that span approximately 70% of the available landscape area, Scape is creating a central, interactive community space with self-sustaining wetland as its centrepiece.
Designed to capture and treat grey water generated by the tower blocks via a series of treatment ponds, the wetland will imaginatively culminate in a 900 square metres boating lake at its base. Once built, Parkoran will boast the largest constructed wetland project on the eastern Mediterranean.
Working alongside international ecological wetland specialists and headed by Scape, the highly innovative and sustainable system is being designed to integrate water technology with the area's local ecology. For example, due to the region's dry climate and scarcity of water, the design team is creating a self-sustaining system that reuses water for both irrigation and water features, providing the area with a valuable educational and recreational resource.
Scape's exciting landscape, featuring intimate shades structures throughout, will incorporate outdoor entertaining areas, an 800 square metre market place, lake-side outdoor café, amphitheatre to seat 300 people and three playgrounds ranging from 300 square metres to 1100 square metres in size, suitable for use by children of all ages.
For more information, visit scapeda.co.uk.