Record breaking year for Bodrum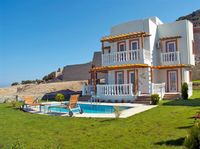 The latest published figures from the Turkish Statistics Institute (TUIK) show another bumper month for Turkish tourism. The number of tourists visiting Turkey reached 3.38 million in August with a year on year rise of 16.5%. This brings the total number of tourists visiting Turkey for 2007 to 13.89 million, up 16.6% year on year. Experts predict that a new record will be broken this year. An estimated 70% of these head down to Bodrum on Turkey's turquoise Aegean coastline, and with a new luxury ferry service to Bodrum from Istanbul in operation, a two-centre holiday to Turkey is looking very appealing.
Achingly trendy, aesthetically stunning, it's little wonder that Bodrum is the resort of choice for the Istanbulese taking a breather from the big smoke. Nestled on Turkey's shimmering Aegean coastline, Bodrum is a perennial favourite with celebrities and the wealthy. Once an insignificant fishing village cowering in the shadow of an imposing Crusader Castle, Bodrum is now a proper millionaire's playground with Nikki-style beach clubs, a stylish marina, the biggest open-air nightclub in Europe - Halikarnas disco - with capacity of 5,000 and the aforementioned castle now illuminated for open-air concerts.
Adam Godwin, Marketing Director for Dream Homes WorldWide comments, "The Istanbul-Bodrum ferry service operated by Deniz Cruise & Ferry Lines has been at occupancy since cruises began back on May 18 this year and the 800km 22-hour trip is a holiday itself, such is the luxury on-board. The good ship Ankara has a swimming pool, fitness centre, sauna, massage room, nightclub, bar, kid's club, hairdressers, shops, standard cabins, VIP suites and a of course bottom-deck parking so the car can come too. This service will encourage not only yet more Istanbulese to savour the delights of Bodrum but also make two-centre holidays in Turkey a real option for holidaymakers keen to try city and beach."
Dressed up in swathes of bougainvillea, Bodrum's coastline is punctuated with secluded sandy beaches, impressive rocky crags, olive orchards and citrus groves and relaxing marinas with waterfront restaurants. Within the vicinity of Bodrum is a selection of smaller, distinctive resorts from the pretty bay of Gümüslük to new marina resort of Yalikavak, and in addition the biggest golf resort in Turkey, with two 18 hole and two 9 hole championship PGA golf courses, is set to open later this year just a few kilometres to the north of Bodrum. Bodrum International Airport is to receive a second terminal to increase capacity to more than five million passengers annually and to cap it all property prices have already risen up to 25% in some resorts over the last year.
On the Market - Turquoise
Turquoise is built by one of Turkey's leading developers, in business since 1948, and offers five star quality, excellent design and an unparalleled aftersales service including rental management. Set just 15 minutes from Bodrum's International Airport and a unique cable-car ride to the resort's private beach with beach bar, Turquoise offers everything for everyone. There is a choice of no less than eleven different types of home, from luxury apartments to villas with private gardens and optional pools and all properties boast sea, lake or mountain views.
On-site facilities range from large communal pools including a heated indoor pool, an aqua park, fitness centre, spa, mini golf, open air cinema and tennis, volley and basketball courts. Turquoise also has everything you might expect from a local town, including bars, restaurants, café, supermarket, boutiques, dry cleaners and a beauticians. Should you have the urge to explore the neighbourhood, a regular shuttle service will take you from Turquoise to the centre of Bodrum.
Turquoise has particular appeal for golfers as it is adjacent to the first golf course on the western coast of Turkey, Vita Golf & Country Club. Vita Park will be prepared to PGA standards and comprise two courses, one 18 hole and two 9 holes, a driving range, golf academy, two clubhouses, five star hotel, spa, tennis courts, swimming pools and retail units.
Completion is expected for November 2008 and prices start from £65,600 for a two bedroom one bathroom 'Emerald' Apartment whilst 'Beryl' Apartments start from £69,200 for two bedrooms, two bathrooms and a ready-to-move-in furniture package. Seevral other apartment options are available. Two bedroom two bathroom 'Quartz' villas start from £92,800, three bedroom 'Opal' villas from £138,700 and four bedroom 'Jade' villas from £147,500. A £2,000 reservation is required followed by 25% on signing of contract and 75% upon completion.
For more information, visit dreamhomesww.com.