Turkey's new planning laws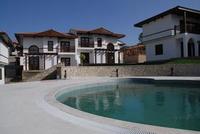 The Ministry of Forest and Agriculture in Turkey has issued a White Paper on guidelines and restrictions to be introduced by the local Municipals and Town Planners up to the year 2025. These new proposals are aiming to restrict the intensity of construction generally. The White Paper spans all the major tourist areas which cover the Aegean and Mediterranean coastlines which until now have been subject to local planning strategies and have in some areas resulted in extensive building.
"We welcome such an initiative", says Robert Nixon, Director of UK Operations for Nirvana International, specialists in property in Turkey. "This is an excellent piece of legislation which covers not just the main tourist areas around the coast but also the cities and surrounding countryside. It is a sweeping approach to ensure that this beautiful country retains its very special appeal."
The planners' aims are to protect and develop by closely watching the development of tourism, which the Government is encouraging, but in a controlled manner to the benefit of all. They also aim to protect agricultural regions and green areas and this is to extend to natural, historical and cultural values such as forests, archaeological sites, national parks and energy source areas.
Planners will also now need to carefully consider city development areas which will be co-ordinated according to the White Paper following the Government's population projection.
Added Robert, "Before this White Paper, vast areas of Turkey could have been threatened but now there is some control we see it as an absolute bonus enabling buyers to purchase homes knowing they will not be blighted by high rise apartments and an untenable density. The Turkish property market is very buoyant as they offer extremely good value for money. On average a home costs three times less than an equivalent property in Spain. With property values rising at around 20% per annum and excellent flights from the UK, it is not a surprise that there are over 62,000 foreign owned properties in Turkey of which over half are believed to be British".
Currently available through Nirvana International is a wide range of properties.
At the top end of the market Villa Caesar in Augustus Village near Antalya is on the market for £795,000. This is a unique home of superb proportions and magnificent specifications. Zero carbon rated, the villa has recently been recognised by the industry for its innovative and creative attention to creating something truly spectacular. As a result the property is one of the only properties in Turkey to win 5 international awards!
Augustus Country Club – close to the town of Belek, on the Turkish Riviera. Excellent facilities including seven swimming pools, two tennis courts, golf, putting, café/sports bar, shops, restaurants and superb spa.
Wide choice of properties starting from £107,000/160 euros for a detached villa. Choice of two, three or four bedrooms with en suite facilities.
Luxury detached four bedroom, three bathroom detached villas start from around £175,000/252,237 euros.
Kalkan Harbour, Kalkan - Villa Superior
Exceptional detached house with infinity pool and breathtaking views. Three bedrooms, three bathrooms. Open fireplace, stone vanity tops, marble floors and granite work surface. Just 250 metres from the beach. £399,000/598.500 euros.
The Hills, Dalaman - Pine Tree Bungalows
Five luxurious bungalows each with a natural stone tower. Every property has 138 sq m of living space including three double bedrooms, one of which is en suite, two bathrooms, open plan fitted kitchen, dining room and round shaped lounge with fireplace. The property comes with air conditioning in every room, terrace and built in BBQ. Each home has a private swimming pool.
Within the complex there is access to sauna, fitness centre, Turkish bath, café/bar, central satellite system, wireless internet connection, playground, 24 hours security. Close to beach and town of Dalaman 15 minutes away.
Available from Dec 2008. Selling off plan now. Prices from £139,000/200,348 euros.
For more information, visit nirvanainternational.com.