Town planners restricting density of construction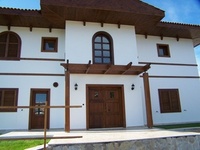 Turkey is learning from the mistakes of Spain and ensuring that its pristine and unspoilt coastline remains that way.
"We feel that this is a very important step on its way to becoming a prime destination for buyers of overseas properties", says Robert Nixon, Director of UK Operations of Nirvana International, specialists in property in Turkey.
Certainly the Government has decided that the Spanish approach to building along their Costas, is not the way they want to take their country onto the world market for investors of properties.
Recently Rhiannon Williamson, a representative of international lifestyle magazine and investment information resource Shelter Offshore, told Hungarian news provider BBJ that Turkey has not made the same mistakes as Spain, whose failure to put a cap on the beachside development has led to resorts becoming blighted by 'high-rise architecture.' She said, "Turkey's town planners are restricting the height and density of construction. This means that the beautiful Turkish Riviera will be protected for generations to come".
Other benefits highlighted by Ms Williamson included affordable property, growth in tourism, possible ascension into the EU, low cost of living and quality of healthcare.
"There is also the subject of land grab which has affected the lives of so many ex pats in Spain in recent months", adds Robert. "By allowing build so close to the beach or on land not owned by the seller, the Government has permitted people to commit their life's savings only to find it under serious threat.
Turkey is like Spain 25 years ago. It is unspoilt; the beaches are pristine, the water clear and clean. Tourism is on the rise and building is restricted to enable coastal resorts to grow but without spoiling any of the natural beauty of this wonderful country and in particular the Turkish Riviera which takes your breath away".
The Ministry of Forest and Agriculture in Turkey has issued a White Paper on guidelines and restrictions to be introduced by the local Municipals and Town Planners up to the year 2025. These new proposals are aiming to restrict the intensity of construction generally. The White Paper spans all the major tourist areas which cover the Aegean and Mediterranean coastlines.
Nirvana International works exclusively with the Turkish market place putting them in a position of having an enormous wealth of experience and expertise which they can share with prospective purchasers.
Nirvana International is currently marketing an exclusive resort for home owners and is one of the only developments in Turkey to achieve six international awards – ever in one year!
So, if you are considering buying in Turkey perhaps you should look at buying a home at award winning Augustus Resort which is situated on the outskirts of the village of Tasagil and sits within 26 acres.
Access is quick and easy via the dual carriageway from Antalya International Airport. The development is 20 mins from Belek golfing resort ( golf is very big in this part of Turkey). The beach is 8 mins drive. The whole area is rich in pine forest which protect it from encroaching future development.
Augustus Village –
16 swimming pools
Luxury indoor pool facilities
2 tennis courts
Choice of golfing facilities including driving range
Gym
Sauna
Spectacular Turkish style spa including breathtaking indoor pool
A La carte restaurants, boutiques and landscaped grounds.
There is also a wonderful choice of property
Prices - Apartments start from £59,000/76,700 euros.
Detached villas from £107,000/139,100 euros
Private detached, four bedroom, three bathroom villas start from £175,000/227,500 euros
Villa Caesar, winner of a number of awards for superior design is also zero carbon rated and SO much more .It has everything from vaulted ceilings, open fireplaces, courtyards to library, home cinema, observatory, Gaggenau kitchen, swimming pool and dancing "fire pit"!
Price £795,000
Concluded Robert, "With property prices rising around 20% pa in this part of Turkey it makes financial sense to buy – it is also a very nice place in which to own a home".
For further information, visit nirvanainternational.com.