Turkey goes head-to-head with Spain on Golf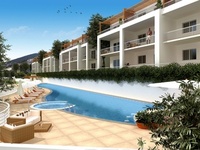 The Turkish Golf Federation has plans to add 100 new golf courses to Turkey's current scanty tally of less than 20. Golf tourism is already experiencing strong growth in Turkey and revenues should hit 500 million euros by 2010, but now Turkey really means business and intends to take golf giant Spain on head-to-head with the Aegean province of Mugla as its secret weapon.
There were 359 federated golf courses in Spain at last count, around 60 of these concentrated along the Costa del Sol generating Málaga province alone 900 million euros in 2006. It's clear that Turkey has some catching up to do but with one and a half times the area (770,760km² versus 499,542km²), a similar climate thanks to sharing the same latitude, one of the fastest growing tourist industries on the planet (18.5 million foreign tourist arrivals in 2006 leapt to 23.8 million in 2007, a 29% increase) and true determination and focus right from the top, you wouldn't bet against Turkey becoming a leading golf destination of the future.
Adam Godwin, Marketing Director for Dream Homes WorldWide which has been operating in Turkey for three years with dedicated offices in Bodrum comments, "With the number of golf courses rising exponentially the Bodrum area will become on a par with the Costa del Sol as a serious destination for UK and Ireland-based golfers who will pay considerably less than the average £65 for a round on the Costas. Those who get in early in prime projects will enjoy significant price rises over the next five to ten years; we're already experiencing capital appreciation around 15% per annum largely thanks to recent infrastructural improvements. The Bodrum area is what we describe as a 'classic lifestyle investors destination', personal use is the key driver but with the added bonus of possible rentals and increased value of the property."
Up until now Turkey's golf has been concentrated in two clear regions – Istanbul has three and Mediterranean Belek around a dozen – but now the southwestern province of Mugla is sure to be the one to watch. A holiday hotspot taking around 70% of all tourist arrivals to the country, Mugla has over 1,100km of sparkling turquoise coastline punctuated with chic marinas but up until now very little golf. 27-holes winding through pine forests and olive groves are under construction close to the village of Munculur and a further 36-holes are nearing completion at Vita Park near Bodrum but thanks to a joint venture between two large groups of companies, no less than 18 courses are now their way.
Net Holding AS and the Agaoglu Companies Group, who both strive to develop tourism across Turkey in residential development and other activities, have plans for 18 golf courses across two of Mugla's most prominent districts, Bodrum and Milas. Ready in six years after an investment of 1.5 billion USD they hope that Mugla will become one of Europe's leading golf centres and earn 5 – 7 billion USD in foreign currency annually. An additional ten million jobs could be created in the region after the opening of the golf facilities and world golfing bodies have already been approached to open debate about hosting international tournaments in Mugla in the future.
On the Market in Mugla...
If you like to be close to golf but would occasionally like to swap golf spikes for flip flops, Dream Homes WorldWide is promoting a residential project called exactly that in the village of Gulluk near Bodrum. Whilst retaining its charm this picturesque fishing village has blossomed into a chic resort with long sandy beach and, when the modern marina is complete in 2009, expect interest to creep even higher.
FlipFlops comprises one, two and three bedroom apartments and penthouses set in landscaped gardens with a range of facilities. Each property features fully fitted open-plan kitchens, fully equipped bathrooms, spacious balconies or terraces for outdoor living and a complete furniture pack is included in the list price Outdoors residents share several communal swimming pools with pool bar, a gymnasium, Jacuzzi, beach volleyball court, bar and restaurant, ample parking and 24-hour security.
One bedroom apartments are priced from £40,000, two bedrooms from £56,000 and three bedrooms from £67,000. Following a £1,000 deposit, two payment options are available – a) standard plan – 40% 7 days after signing contract, 30% 45 days after, 20% 120 days after and 10% upon completion scheduled for December 2009 and b) for 4% discount – 90% 14 days after signing contract and 10% upon completion.
For more information, visit dreamhomesww.com.