Buyers outside Euro Zone not affected by credit crunch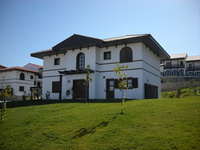 Countries outside the Euro Zone are not affected by the current credit crunch. Traditional countries such as Spain, and Portugal, where the British have bought in huge numbers over the years, are feeling the pinch, whereas other countries such as Turkey are not.
"Sterling has fallen in value by 17 to 18% compared to the euro over the past year and the result is that people travelling to the euro zone are subject to much higher costs", says Helen Warburton, the head of travel at the Post Office. "Families on budgets are thinking hard about whether or not the euro zone represents the best value for money".
Certainly Nirvana international, specialists in property in Turkey concur. "We have noted a definite up-swing in the number of enquiries we are getting from buyers keen to own an overseas property but not so keen to find that a large portion of the cost of their purchase is being "lost" in the exchange rate" says Robert Nixon, Director of UK Operations
"We have already seen a 15% increase in our currency sales of the Turkish lira, a sure sign that there are still plenty of affordable destinations" added Helen Warburton.
Property prices in Turkey are relatively cheap so a buyer can secure a quality home of a good size with private pool for almost the same as one would pay for a 2/3 bed apartment in some of the favoured Spanish Costas. However, Turkey has taken into account the loss of natural coastline beauty that some countries have suffered due to overbuild and have adopted a different approach, carefully limiting the number of new builds. This is creating a clever combination of resorts that supply what visitors and homes owners want in terms of facilities, yet ensure that the fabric and character of the country is not lost to urbanisation.
Nirvana International currently have a wide choice of homes on their books including –
Carlton Heights, Gocek, Fethiye.
This is a select development of just eight detached villas each with their own private swimming pool, garden area and sun terrace. There is fabulous unspoilt scenery and a quiet, away from it all, ambience. The waterfront is 25 minutes walk. The local village is 5 minutes by road. £175,000
Pine Tree Bungalows, The Hills, Dalaman
Five luxury bungalows are being constructed each with a natural stone tower providing an unusual and attractive feature. There are three, double bedrooms and an open plan fitted kitchen plus lovely round shaped lounge ( within the tower), with fireplace. Each home has a private kidney shaped swimming pool, landscaped private garden and private parking. Access to sauna, fitness centre, Turkish bath, Terrace Café bar and shops. Views of lakes and mountains. £139,000
Augustus Village/Augustus Country Club A major development which has won a number of awards. Easily accessible from Antalya airport via the motorway travel time is around 35 minutes.
Apartments from around £59,000
Villas from around £117,000.
Facilities include tennis courts, golf driving range, indoor and outdoor swimming pools, restaurants, spa, gym and supermarket. Close by is the beach and there is easy access to golf courses and mountains.
For more information, visit nirvanainternational.com.