Where East meets West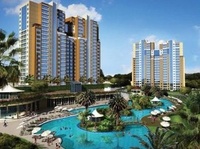 Enjoy the best of both worlds with an exciting new investment opportunity in the west Istanbul area of Turkey - marketed by Propertyshowrooms.com.
It's an exclusive new city development in the north- west of Turkey, that's perfectly located for fast access to the vibrant city of Istanbul and the international airport. The project is called Innovia, and features high specification one and two bedroom apartments set within an outstanding luxury complex.
"We are very excited about Innovia, our latest and most prestigious city investment in the west Istanbul area," says Mark Wilson, from the International Property Investment Network – the investment arm of Propertyshowrooms.com. He continues: "In our view it satisfies the strictest of criteria in terms of 21st century living and investment potential."
And that investment potential is underpinned by the project's fantastic location just 30km to the west of Istanbul's city centre, in an area which is currently attracting a huge volume of financial investment in terms of its infrastructure; all strongly endorsed by the Turkish government.
The complex will have fast and efficient connections to Istanbul city centre via an under-construction Metrobus link, with transport within the development itself provided by an innovative shuttle service. Turkey's Atatürk international airport is only 10km away, while the beautiful beaches of the seaside town of Beylikdüzü are just a 5km drive to the south. Mark Wilson again:
"The whole area has big ambitions regarding the economy, tourism, and culture, making it a prime location for renters (both foreign and local) seeking quality of life within an easy commute to the city. Additionally, its location close to a major Trade Centre and four large universities means that buy-to-let investors will find a ready local market for their units."
The units at Innovia boast designated parking, 24-hour security, video intercoms, an on-site management office and a children's day care centre. Residents and tenants have exclusive use of a multi-purpose sports hall, indoor and outdoor swimming pools, tennis, basketball, volleyball, cycling track, and a five-a-side football field.
Other features include a shopping mall, gymnasium, and indoor bowling centre, with plans to construct the second largest hospital in Istanbul already well under way. Astonishingly, all of this comes at an entry level price for a one bedroom apartment of just 33,300 GBP.
Often regarded as the point 'where East meets West,' Istanbul and the surrounding area is set to enjoy continued economic success. And with demand for quality property in that region still outstripping supply, investors would do well to include the Innovia project as part of a successful international investment portfolio.
For more information, visit propertyshowrooms.com