Where in the world..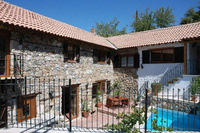 Where in the world..Can you find an adoringly restored natural stone built house, with Laura Ashley interiors, surrounded by fruit orchards and olive groves? France? Spain? Croatia? The answer is Turkey in the local ecological village of Kirazli.
We have spoken to Karyn Phillips, the lady who owns this beautiful property which is currently on the market with specialist Turkish agency, Spot Blue. Karyn's vision for property and building communities is something she has nurtured and developed throughout the years. Having spent 12 years at the hard end of social care, Karyn opted for an early retirement and took up part time property development… and if that conjures up images of two up two down house renovations, you'd be very much mistaken. Her first project was building a jungle house on a tiny Mexican island in the Caribbean.
Karyn has only ever been interested in unique projects which offer more than just a home in the sun, she sought out potential for small business opportunities and ways to involve whole communities. Karyn comments, "As we worked on each project we also found that contributing to the small communities we were in was as important to us as finding a viable business opportunity for the buyer. We believe that our houses have to fit into their environment, offer something of benefit to the whole community and promote the area in general." The house in Kirazli has the potential to be an art studio and gallery, small day spa or venue for art holidays.
Karyn fell in love with Turkey when she first visited, "We found a beautifully diverse country with amazing views, real drama in the scenery and a vibrant culture. It really just blew us away." Kirazli is perfectly situated just outside of Kusadasi, it is charming and tranquil yet close to Izmir airport and the Aegean coast beaches.
The house was bought with the intention of renovating it and selling it on to someone looking for an active retirement or overseas business dream, "For us it was always about achieving the reality of an idea, not about keeping the home forever, that was for the people who got to buy it". Since Karyn's husband passed away in April she has already set her sights on new projects in Turkey, each project gets more environmentally friendly and more authentic - key skills of a good sustainable property developer.
The stone houses in Turkey can be difficult and costly to renovate, one of the reasons that so many are knocked down to make way for cheaper brick houses in their place. But true to her beliefs, Karyn's intention was to lovingly restore the property using local craftsmen and reclaiming materials wherever possible. Every room was planned out in detail before any works commenced including interior layouts, themes and water colour sketches of the 'vision'. It has been designed to be welcoming, combining wow factor with warmth; it has elements of Tuscan style with shutters on the windows and textured porcelain floor tiles in muted colours. With an injection of Laura Ashley furnishings there are also evidence of an English country feel from the shaker style kitchen to the hanging scented hearts on the cupboards.
If this property isn't perfect enough already, then knowing that the neighbours drop round gifts of fruit and home made cheeses will help complete the dream. "When I am in Kirazli I know I am safe. My neighbours aren't intrusive or in your face, they just quietly accept me and watch out for me."
Most of the families in the village keep goats and sheep for their milk, it is a true farming community. The village is surrounded by cherry (Kirazli means Cherry Village) orchards, vineyards, peach orchards and olive groves. Everything moves to the rhythm of the crops, first the green almonds in April, then the cherries in May and June, then the peaches, the grapes in September and winter for the olives.
It is no surprise then to learn that Kirazli is an ecological village. The headman Hussein, elected by the locals to democratically manage the village with a team of advisors, has ensured that the surrounding pine forests are protected and he has helped create a centre for ecological farming. As part of pre-accession European funding Kirazli received a grant to fund a three year project to establish the first organic seed stock in Turkey. This project has just come to a successful end and further projects involve expanding the organic orchards. But Kirazli certainly isn't without its regular amenities, the village has two butchers, two general stores a weekly bazaar on a Tuesday, a high school, two boutique hotels, a carpenter, a mechanic and several extremely good restaurants.
Overall Turkey offers a huge amount to the careful and discerning buyer. Prices continue to rise steadily and the credit crunch isn't biting as hard as it is the rest of Europe. Also, for British buyers flexibility on the currency you use to buy in makes it a good alternative to the Euro zone where the strong Euro makes prices hard to swallow.
Apart from economic factors Turkey offers something culturally different, an appealing lifestyle and lower cost of living. It is a remarkably safe country with very low figures for crimes against the person and it is a country that still values the community.
And for those buyers willing to venture outside of the main tourist zones and the mainstream options there are huge rewards available in terms of discovering a whole new way of life and culture without sacrificing the modern amenities they need.
For more information, visit spotblue.co.uk