Brand new homes for just £58k with skiing and golf year round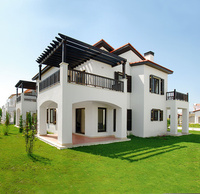 In these times of intense pressure most people are working incredibly hard and need to know that there is light at the end of the tunnel where they can make a secure investment and enjoy life.
Well you can!
Do you realise that Turkey as such is unaffected by the major turmoil of the money markets? Did you know that you can secure a mortgage through a Turkish bank via a UK estate agency and did you know that you can get a brand new two bedroom, superior apartment for just £58,000.
Did you also realise that in Turkey property values have risen by 40% in the last two years, that mortgages can be acquired at around 5.8%, tax incentives abound including a possibility of not having to pay Capital Gains Tax? On top of which the cost of living is 1/3 less than in the UK. It is like making your own "wish list"!
Turkey has superb summers and far less harsh winters than in the UK. The coastline is beautiful with clear blue, clean waters and there is skiing in the Taurus Mountains and golfing available year round. With major flight carriers into the airports there is a choice of airlines and a number of low cost opportunities.
Nirvana International is a very well established experienced company specialising in selling homes and holiday properties in Turkey. They do not diversify so unlike a lot of companies they do not "know a little about a lot of countries" but actually "know a great deal about one particular country". They have won numerous awards for their business acumen and currently have two developments that will appeal either to the golfer or the skier, or perhaps both.
At Belek Golf Villas and Apartments complex next to the National Golf Course( twice venue for PGA Seniors, 2008 were host to Turkish Open and Ladies European) in Belek, Turkey the company has a wide range with two bedroom apartments starting from 199,000 euros and villas starting from 369,000 euros.
For the golfer who purchases they will receive a set of clubs plus 15 rounds free. For the non golfer there will be a set of clubs plus new player coaching and 12 rounds of golf free. Actually at the complex there is a putting course for some extra practice and for those who really have no interest in the game there is a large communal swimming pool, children's pool, playground, tennis court, mini market, restaurant and a private boat service to the beach just 5 mins away. There is a magnificent 600 sq metres Fitness Centre with sauna, steam room and indoor swimming pool. With 24 hours security, Checkpoint controlled gates, satellite system and internet plus parking next to the property these properties are ideal not only for use by the owner but for letting to keen golfers thereby probably securing good year round rental.
"These exceptionally prestigious homes offer amazingly flexible payment terms", says Robert Nixon, Operations Director UK for Nirvana International. "Backed by a Russian investor, which is why they are so lavish in their build and presentation, they are also offering an amazing personal payment plan."
The terms in essence are that you can buy the property now, move in, even rent out and you can spread the payments over 24 months. This means that you could be seeing the benefits of a rental return for several months before having to pay fully for the property.
If you prefer skiing then the Taurus Mountains beckon.
At Augustus Village and Country Club there is a superb choice of properties ranging from approx £58,000 for apartments and starting at £117,000 for villas.
This highly successful development offers a myriad of facilities including gym and cardiovascular studio, café, poolside bar, restaurants, shops tennis courts, golf pitching and driving range, indoor swimming pool and amazing spa.
"The ski slopes can be reached within around a ninety minute car drive. There is a choice of resorts and skiing for around five months of the year", adds Robert "Turkey really does have a great deal to offer including a rising property values market and an excellent low starting price for purchasers making their first step in the overseas market".
For more information, visit nirvarnainternational.com