New golf course to take Altinkum up-market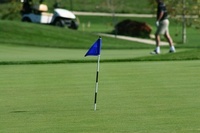 Plans for a £22.8 million ($40 million) golf resort in the Turkish holiday resort of Altinkum have been given the go-ahead by local planning officials and the Turkish Ministry of Culture and Tourism. Atlas, a Turkish steel and shipping company, is developing the 18-hole golf course and residential village on a 170 acre site close to the Aegean resort, which is a popular destination for package tourists and property buyers from Britain.
"According to local press reports, Atlas have secured a 49-year lease to operate a golf and holiday resort in Altinkum. This will be a major boost for the resort, particularly with the opening of the new 450-berth Didim marina next year. It will certainly broaden the area's appeal and have a positive affect on the property market," says Dominic Whiting, editor of the Buying in Turkey guide, buyingin.co.uk
The development of golf and yacht tourism is a key part of the Turkish government's plan to expand and diversify the country's tourist industry. Turkey was one of the top destinations for British tourists this year and the country is expecting over 24 million international visitors for 2008, up over 15% on last year.
The Aegean resort of Altinkum has attracted over 8,000 British property buyers thanks to the area's low property prices with new apartments still available for under £30,000. However, the new marina and golf course are expected to encourage demand for higher-end property, while also extending the tourist season into the winter months, which provide ideal golfing conditions.
To find out more about property in Altinkum download a free copy of the Buying in Turkey guide at buyingin.co.uk