Want a second home where you know your investment is safe?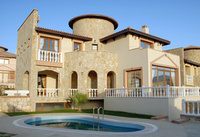 In these turbulent times wouldn't it be nice to buy a 2nd home away from it all where you can be sure of days of sunshine in a glorious setting and where your investment is safe? Turkey is the answer.
Even if you think you know Turkey, do you know Kusadasi, the jewel in the crown and the city resort of the Aydin Province?
"We have around 900 cruise liners visiting the port a year", says Tracy Ogretici, for Elite Homes, a company specialising in homes in Kusadasi. "This magnificent resort has experienced explosive growth in recent years and there are now 2,500 resident visas held by foreigners living in and around Kusadasi."
With 25 kms of sandy beaches and a superb climate, home ownership is growing. There are good state and private hospitals and schools and Izmar the third largest city in Turkey is a one hour drive away, ideal for retail therapy in Next, Marks and Spencer and many more. Kusadasi is served by two International airports with direct year round flights from the UK.
Kusadasi also boasts an international marina known as the "gateway to the Greek Islands" and currently under construction is Kusadasi International Golf Course scheduled to be completed around 2011.
"Because Turkey is not in the "euro loop" it has not been affected as severely as other countries", continues Tracy, "Turkish Lira in Turkish banks is currently offering a return of 20% and because mortgages did not come into effect until 2 years ago the banks do not have the toxic loans that are stifling business with many other banks worldwide".
Kusadasi therefore is a place in which to consider a "get away from it all" property. Prices are realistic and homes enchanting. This is a vibrant and confident place in which to own a home.
Currently available through Elite Homes:-
Cypress Hill Villas
This is a beautiful, relaxing development of just 38 exclusive villas each three or four bedroom property offering owners a sea and mountain view and a private swimming pool. There are balconies from the master bedroom and main living room and the kitchen is fully fitted including granite work tops. There is marble and ceramic flooring throughout and a handsome staircase. Crafted from the finest materials there is 24 hour security and beautiful landscaped gardens.
Prices start from £177,000 approx (184.52 m2) for a three bedroom villa and from £348,000 (278.5 m2) approx for a four bedroom villa.
Each property stands on approximately 600 m 2 plots and benefits from a private driveway.
Kusadasi International Golf Resort,.
18 hole golf resort and the first in Turkey to incorporate a mixed use residential development. Facilities include restaurants, bars, tennis courts, swimming pool, sauna and Turkish baths together with fitness centre, aqua park, heated indoor pool, shopping centre, open air cinema, mini golf and a whole array of additional sports and recreational facilities. All properties have stunning views as the land is surrounded by forestry and a national park.
The Aviary is the first phase to be released. There is a mix of apartments and duplexes. Completion schedule for Autumn 2010.
Prices start from £65,000 approx for a one bedroom apartment, £98,000 approx for a two bedroom apartment and approx £127,000 for a three bedroom apartment. Villas start from £154,000 approx with a choice of two or three bedrooms, most with private pools.
Concluded Tracy, "In Kusadasi properties are around 35/40% less than in more well known locations. This is generally felt to be due to the fact that major developers building in resorts such as Bodrum were willing to pay large sums in the promotion of the areas. In this part of Turkey the local Government is helping to ensure that there is no overbuild which has also kept developers reluctant to try for large conurbations. This has resulted in the region keeping its traditional ambiance and prices low".
For more information, visit elitehomesturkey.com