Turkey: The credit crunch bolthole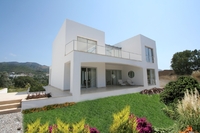 While the UK property market is feeling the bite from the credit crunch Turkey's economy is proving to be extremely robust and in turn its property market is growing from strength to strength. As a result Turkey is re-emerging as an established investment hotspot for both experienced as well as first time emerging property market investors who are looking to combine good returns with an idyllic holiday retreat.
Moneycorp highlight that Turkish property has increased in popularity with UK investors more than three fold over the past year particularly in the popular coastal resort of Bodrum. For those looking for a prime investment opportunity in this credit crunch bolthole Cumberland Properties, one of Bodrum's leading developers is marketing three developments on the Bodrum Peninsula ideal for the savvy investor.
Eric Kaya, Director of Cumberland Properties comments: "The economic advancements and developments in Turkey are hugely positive at the moment and buying into Turkey during this period of growth is an ideal investment opportunity. Would-be investors can now be assured that they are investing into a nation with a healthy economy and one where the property market holds long-term potential for strong capital appreciation."
Turkey represents the best investment opportunity in the overseas market that anyone is likely to find over the next year and a half. The country has rebounded incredibly since its economic crash seven years ago and is now in a position of strength compared to the UK, as it is on the verge of recovery having already experienced the repercussions of the downturn in their economy. As a result Turkey has now emerged as an economically stable country and boasts one of the fastest growing economies in the world according to the Turkish Embassy. Furthermore taxes are low, interest rates are decreasing, inflation has reduced from over 70% in 2003 down to approximately 7% as it stands today and the cost of living is 60% less than the UK.
This in turn has resulted in the rapid expansion of the property industry. Property values are much lower than the EU average and are within financial reach of many individuals because prices began from a low starting point and there is substantially more room for expansion. Already prices have increased in value by over 15% annually since 2003 and projections for this year are estimated at 20% now that Turkey has achieved the status of the top tourist destination of 2008 according to ABTA.
For private investors, these factors represent a compelling case for property purchases, which will offer short to long-term capital appreciation; high rental yields as well as holiday homes. It is this sustained interest that has led sagacious developers to differentiate by supplying high-end luxury real estate. Cumberland Properties is catering to this market with its three bespoke developments on Bodrum Peninsula: Seaview Regency Prestige, Woodland Regency and Valley Gardens Regency.
Seaview Regency Prestige is 19 contemporary three bedroom detached and semi detached villas situated on a hillside overlooking the bay of Kucukbuk just outside the village of Gundogan, a 15-minute drive from Bodrum town centre.
Each property features three bedrooms and three bathrooms designed by Deniz Kutay, one of the world's top architects. The open plan layouts create a light and airy feel and each home has been designed to maximise space. Offering uninterrupted views of the Aegean Sea, the gated development features a large pool with terrace, reception, 24-hour security, free wireless Internet and central satellite TV. The development is complete and properties are ready to move into. Prices start from £165,000 for the semi-detached triplex villas and £175,000 for the detached duplex villas.
Woodland Regency is set within 5.4 acres of tranquil pine forest in the village of Konacik, conveniently located just outside Bodrum town centre and perfectly placed to visit the nearby towns of Bitez and Gumbet. The development features 62 one and two bedroom apartments and three bedroom, two bathroom semi-detached villas. The development features an exclusive onsite clubhouse providing a spa, sauna, Turkish bath, recreation room, bar and fitness facilities. The scheme also features two large swimming pools, a putting green, landscaped gardens with picnic area and playgrounds as well as 24-hour security, free wireless Internet and central satellite TV. Properties are being sold-off plan prices start from £49,900 for a one-bedroom apartment, £62,000 for a two-bedroom apartment and £158,400 for a semi-detached three-bedroom villa. All units are being offered with a 6% two-year rental guarantee.
Valley Gardens Regency is located just outside the vibrant town of Yalkavak and near the village of Gokcebel on the north coast. The area offers stunning views of the coastline and good links to the airport and Bodrum town centre. Valley Gardens Regency offers the peace and quiet of rural living and comprises nine buildings, totalling 18 flexible apartments, which come with a choice of two layouts. Customers can have the choice of either two or three bedrooms as well as having the design further tailored to their specific needs. All the bedrooms offer fantastic floor to ceiling glass doors, which provide stunning views of the Aegean Sea or Gokcebel valley and upper floor apartments benefit from a striking sloping glass roof covering most of the living area.
The development features a raised level infinity pool with Jacuzzi, children's pool and terrace area. Other facilities include on-site parking, landscaped gardens, a tennis court, entrance reception, 24-hour security, free wireless Internet and central satellite TV. Valley Gardens Regency is being sold off plan and prices range from £99,000 to £119,000 for a two/three bedroom apartment.
For more information, visit cumberland-properties.com