We're all going on a Turkish summer holiday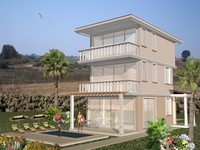 According to Europe's second largest travel operator, Thomas Cook, the hottest ticket this summer is a holiday in Turkey and it's no surprise why thousands of Britons (as well as US President Barack Obama) are expected to visit this non-euro destination in 2009. Turkey is the ideal family holiday location offering numerous beach resorts, good quality accommodation, water sports and land based activities and a lower cost of cost living compared to west European resorts not to mention the reliable climate.
Tourist arrivals to Turkey have risen steadily over the past few years as the country has opened up and accessibility has improved. Recent figures from the Ministry of Culture and Tourism reported a 12% rise in overseas visitors totalling 26.3 million (of which 2.17 million were from Britain and over 32% entering via the tourism capital of Turkey, Antalya) in 2008 compared to 2007 and a further 20% increase in the number of British tourists is anticipated in 2009 according to an undersecretary of the Tourism Ministry.
Recognising the importance of tourism to the burgeoning Turkish economy longer term strategies have also been announced including the ambitious aims for 2023 by the Culture and Tourism Ministry which include the creation of seven tourist development corridors and nine cultural and tourism zones in order to attract 40 million visitors in addition to an airport, eleven cruise ports, ten tourism cities and nine marinas to be completed by 2013.
One of the key appeals of a Turkish holiday this year is affordability. The country is not part of the euro zone and hence relatively unaffected by the pound's poor performance against the euro; the lira has reportedly fallen one third against the dollar and one fifth against the pound. Known as a value for money destination, Turkish accommodation remains affordable and the cost of living low. There are numerous discounted package holidays now available especially for those willing to book at the last minute.
And access to tourism hot spots such as Antalya on the Mediterranean coast or the Bodrum Peninsula on the Aegean coast has never been easier with direct flights offered daily from the UK by both scheduled and charter services. Due to increased demand seat-only travel operator Avro will be offering additional charter flights to Antalya during the summer season starting at the end of May. Further a field agreement has been reached for direct flights to commence from Canada to Turkey and Turkish flag carrier, Turkish Airlines, will introduce new routes this season to New York, Singapore, Johannesburg and Seoul. This increased access to the US in particular is much welcomed in light of the recent "Unlimited Turkey" tourism campaign operating Stateside.
These positive tourism indicators for 2009 also spell good news for those with second properties in Turkey. Some 73,000 foreign nationals (mainly Britons, Germans and Greeks) own properties in the country predominantly along the Mediterranean and Aegean coastlines and interest in owning bricks and mortar be it for retirement, a holiday home or buy to let investment continues to be strong.
Joseph Upchurch, MD of real estate developer Aston Lloyd who has a number of projects in Turkey, comments,
"As a company, Aston Lloyd has a great deal of confidence in Turkey, and the returns we can offer our investors. Two Aston Lloyd developments are under construction with one nearing completion, which is a positive reflection on the strength of Turkey and the opportunities that exist for investors looking to make real returns in turbulent times. Turkey is one of the top places in the world to buy property right now. We are building off the back of in-depth analysis, not speculation, which is why developments in emerging markets, such as Turkey, are still able to continue building, unlike other parts of the world which has seen projects being put on hold or pulled altogether."
Those with existing properties available to rent in key tourism locations such as Antalya are set to be benefit this year as holiday villa rentals become increasing popular. The mixture of quality accommodation in top locations as well as the flexibility of your own rented villa is of high appeal to families or those looking for a more bespoke vacation.
As the undefeated former world super middleweight champion boxer and Aston Lloyd investor, Joe Calzaghe CBE, comments, "(When making a property investment) the main thing for me is location and value for money. I've chosen places that have a lot of tourism because you want to know you can rent it out. I've also chosen places I would want to go myself, including beautiful countries like Turkey."
One such example of a high quality development in Turkey which is due for completion in July 2009 and available to purchase as a buy to let property for the peak summer season are the Caretta Villas in Belek from Aston Lloyd. Comprising 87 modern Mediterranean style 2 and 3 bedroom villas situated just 10 minutes from the nearest beach the detached villas will include terraces on all floors, fitted cupboards in all bedrooms, a private parking space and optional private swimming pool. The site itself enjoys complete privacy due to its restricted access, offers two communal swimming pools, two tennis courts and seated landscaped gardens. The new build villas will be available from €160,000 / £143,577 through Aston Lloyd.
For more information about buying in Turkey or Caretta Villas, visit astonlloyd.co.uk