Cybarco triumphs at International Property Awards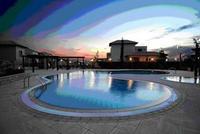 Cybarco Plc has confirmed its position as the leading developer in the Republic of Cyprus by scooping awards in all three categories in which the company was entered into at Friday night's International Property Awards.
Recognised in the Development and Golf Development categories – receiving four star awards in both, Cybarco was also fêted for its clear yet comprehensive website, taking the highest accolade in the Developer Website category.
Yiannis Kalyvites, Group Marketing Manager, Cybarco Plc was said to be delighted and declared the success of the evening to be 'an acknowledgement of the hard work and dedication of all who work for and with Cybarco.' He pointed out that in recent years Cyprus has significantly upgraded the type of developments undertaken and that future plans will see this strategy implemented on a far –reaching scale.
In affirmation of Kalyvites' words, the judges awarded Adonis Village (development) a 4* award, and Hestiades Greens (golf development) a 4* award, both within the prestigious Aphrodite Hills development.
Adonis Village, a mix of contemporary apartments and town houses, has been built around a traditional Cypriot village square with a secluded communal pool. One, two and three bedroom accommodation with private terraces, patios and gardens, each property enjoys an exceptional outlook towards the Mediterranean or across the dramatic ravine which cuts through the centre of the resort and provides the most challenging hole on the golf course. Apartments are priced from CY£217,000 and terraced houses from CY£240,000.
Hestiades Greens comprises two and three bedroom luxury terraced villas which occupy one of the development's most prestigious locations alongside and overlooking the golf course greens and the sea. Designed to sympathetically blend with their exquisite natural surroundings, each villa has a swimming pool, air-conditioning units in bedrooms and living areas (cooling and heating), central TV and satellite antennae. Prices start from CY£283,000 and both fully furnished and landscaped villas are available to view or move into immediately. A number of off plan units are also available in the third and final phase of the development.
According to Kalyvites, 'these awards celebrate Aphrodite Hills as being the most exclusive leisure, golf and property development in the Eastern Mediterranean - the first integrated resort of its kind in Cyprus. With 11 new golf courses and 4 new marinas planned for Cyprus, Cybarco intends to be at the fore-front of such upmarket development and we look forward to being at this award ceremony again next year. '
For more information, visit cybarco.com.