Latest property prices in Cyprus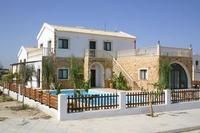 October 2006 residential property prices in Cyprus dropped 0.9% from the September figures. The BuySell Home Price Index came down to 117.60, bringing the Average Home Price to CYP £91,625. The overall index remains up 6.7% for 2006 to date.
The BuySell Home Price Index was created and is updated monthly on behalf of BuySell Cyprus Real Estate by the independent economic research organisation S. Platis Economic Research. The Index is announced during the second week of each month and depicts the movement of prices at which residential properties are sold in Cyprus, based on the extensive BuySell Cyprus Real Estate database.
The BuySell Home Price Index has been rebased in September 2005, in order to keep the Index updated with respect to the most recent quality characteristics of the housing market in Cyprus. For more information on the methodology of the Index and on Hedonic Prices please refer to: The "Asking Price and Transaction–based Indices for the Cyprus Housing Market (Rebased)" by Dr. Stelios Platis and Marios Nerouppos of S. Platis Economic Research.
The BuySell Home Price Index constitutes the only valid gauge of the Cyprus housing market and is considered as an effective tool for home buyers, sellers and investors.