Cyprus property market shows stable but healthy growth for 2007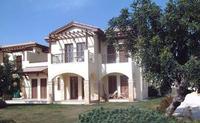 As 2007 gets under way, there's continued confidence from international buyers in Cyprus' residential property market. After a period of rapid price rises in anticipation of the country's EU membership in 2004, the market is now showing stable but healthy growth with the promise of more good things to come as the country prepares to adopt the Euro currency on 1st January 2008 and Monarch Airlines adds Cyprus to its list of budget destinations.
According to the President of the Cyprus Council of Real Estate Agents, Dinos Sotiriou, house prices have recently started to stabilise after three to four years of intense annual growth of around 10-15 per cent. Long-term trends remain positive but are more sustainable, offering the dual benefits of stability and continued growth particularly throughout 2007, in anticipation of the Euro currency, but also into 2008 and beyond.
For potential investors, Cyprus' economic statistics are impressive. The country enjoys a high standard of living and is ranked highly among other European economies. The per capita income is around CYP 20,000 with low unemployment (3.7 per cent) and low inflation (2.3 per cent). The Central Bank of Cyprus interest rate stands at 4.5 per cent and Cyprus Investment Policy is liberal. It allows 100 per cent foreign participation in all sectors of the economy, for example the acquisition and development of land - both for EU nationals and investors from non-EU countries. There are no exchange control restrictions and it's no longer necessary to prove that property was purchased from external funds.
Seasoned investors in Cyprus already know about its wealth of attractions, which make it a popular location for both tourists and foreign residents, especially retirees. As well as the 340 days of sunshine per year, stunning beaches and dramatic scenery, Cyprus is also an attractive financial proposition. It has a low cost of living and low taxation, especially for retirees with the added benefits of no inheritance tax and banking and legal systems closely resembling those in the UK. In addition, 2007 brings an added bonus, with Monarch Airlines offering budget fares from London Luton airport to Larnaca international airport, promising to further boost the appeal of Cyprus to tourists and potential homeowners alike. The Monarch Airlines service begins in March 2007 and will provide some healthy competition for current major operators, Cyprus Airways and British Airways. As most investors know, when a budget airline adds a new destination to its list of routes, it's a sure sign of a healthy property market with a promising future.
Tourism has always played a major part in Cyprus' economic success and a stable tourist market is a major consideration for property investors concerned about the potential for high rental yield and worthwhile capital returns. The Cyprus Tourism Organisation (CTO) has recently embarked on the Strategic Plan for Tourism 2010 which will improve the tourism sector overall, with upgraded resorts and an increase in high quality facilities, such as marinas and golf courses developments. In addition, the CTO wants to appeal to a more diverse range of tourists, encouraging return visits and out of season holidays. Cyprus' two international airports at Larnaca and Paphos are both currently being refurbished and extended to deal with increasing numbers of holiday makers, second home owners and foreign residents.
A recent report in the Cyprus Mail suggests that the reason for Cyprus' popularity among all types of investors is that the quality of homes on the island remains high, despite the fact that buyers enjoy prices which are lower than many other popular European destinations. Now that the economy has steadied in preparation for adoption of the Euro, Cyprus is the perfect environment for investors - good value combined with economic stability.
Find out what Cyprus can offer you by visiting cypruspropertyworld.com