Valentine's Day gift from the birthplace of the Goddess of Love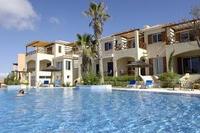 Leptos Estates is offering the ultimate Valentine's Day present - from February 14th, 2007, the first fourteen people to buy a new home at its romantic Vikla Village development in Cyprus will also be presented with a rose red Suzuki Swift car!
Legend has it that Aphrodite, the Greek goddess of love, rose from the sea on a large shell at Petra tou Romiou near Paphos. Not a woman to shy away from difficult men, Aphrodite was originally married to Hephaestos, the God of Fire, then when the flames of this love dwindled, she married Ares, the Greek God of War.
Her most famous child was Eros (Cupid) and since these ancient times, Cyprus has been known as a haven of love, with the island casting its magical spell over visitors and residents alike.
And there is certainly an air of romance surrounding Vikla Village which was awarded the title of Best Cyprus Development in the International Homes Overseas Property Awards in 2006.
Nestled in the hills just outside Pahos, with breaktaking views over the surrounding countryside to the Mediterranean coast, Vikla Village offers a choice of one, two, three and four bedroom love nests.
The stylish selection of apartments, bungalows and villas are designed and built in traditional Mediterranean style, with underground cabling to preserve the spectacular scenery. This atmospheric village also boasts a large infinity communal swimming pool, with club house and coffee shop where owners and residents can gather and socialise.
Only minutes from Tsada Golf Course, within easy reach of Paphos town centre and the international airport, and just a short drive from the coast, prices at Vikla Village currently start from Cy £134,200 for a two bedroom apartment, Cy £135,700 for a two bedroom villa and Cy £198,600 for a three bedroom villa.
Pantelis Leptos, marketing director of the Leptos Group, said: "With this car promotion you are not just buying an idyllic new home, with the free car you are buying a whole lifestyle, giving you the opportunity to explore this fascinating and historic island. What could be nicer on Valentine's Day than to wake up to a wonderful new future.
"When people are thinking about buying a property abroad either to retire to or as a holiday home they often forget to factor in the cost of buying a car. Although most developments have facilities on site you still need something to get your shopping home from the supermarket or to drive into the hills for that romantic meal."
The four door Suzuki Swift comes complete with CD player, electric windows, air conditioning, ABS, power steering and central locking and is the perfect run around for trips to secluded beaches and ancient ruins.
With practically year-round sunshine, low taxation, a cost of living which is 30 per cent cheaper than in Britain and best of all attractive property prices in stunning location, Cyprus really is the perfect haven for lovers – star-crossed and otherwise.
The former British colony, which joined the EU in May 2004, is now the fourth most popular foreign hotspot with more than 60,000 Britons owning a home on the island.
For further information or to arrange an inspection email info@leptosuk.com.