First time buyers opt for overseas and sell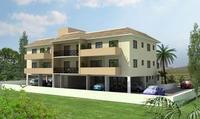 A new generation of first time property buyers are ditching jet-to-let in favour of oversea and sell strategies to help them get a foot on the UK property ladder, according to experts.
Overseas property developer Morpheus Investments has noticed a growing trend of first time buyers purchasing properties off-plan, without viewing them and selling on completion for high returns. The company's sales figures support recent industry research showing that 3.8 million first time buyers are considering buying abroad just to get on the UK property ladder.
Louise Maudsley, sales manager at Morpheus Investments, comments: "First time buyers are adopting strategies more familiar with professional overseas property investors. They are quickly identifying booming property hot spots such as Southern Cyprus, buying off-plan and are content with overseeing development progress instead of spending time and expense visiting properties, and forming emotional attachments with them. They will then sell quickly as opposed to generating returns from rentals.
"This oversea and sell strategy is enabling first time buyers to reap significant returns on small deposits and in a short period of time. They are using their returns to buy homes in the UK."
In recent months, Morpheus Investments has sold a number of its apartments located in Kiti, Southern Cyprus to single first time buyers and groups of first time buyers pooling cash. Maudsley continues: "Buyers are able to secure the apartments with a 15% deposit for as little as £10,000 GBP. There is then nothing else to pay until completion with the option to sell before, during or after the development is finished.
"Cyprus is experiencing annual rises in property prices of around 15% to 20%. British experts are also predicting property values to rise by around 50% when Cyprus joins the Euro Zone in January 2009. Furthermore, property saleability is strong and will remain so over the next decade due to limited land availability and new developments on the island such as the PGA approved golf course and spa close to the Kiti apartments.
"These factors mean that savvy first time buyers will be able to expect quick sales and double the market value of their property in the next three to four years."
28 year old James Garrett is a first time buyer who has recently bought one of Morpheus' Kiti apartments: He comments: "I'd been saving to buy a house in the UK for several years, but was still years away from having enough of a deposit for a small terrace. Buying the apartment in Southern Cyprus will save me another three years of saving and enable me to get on the UK property ladder at the beginning of 2009."