Elian expands London office to cater for Cypriot property investment market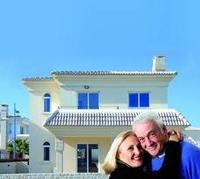 Investors seeking opportunities to purchase property in one of Europe's fastest growth markets - South Eastern Cyprus - now have easier access to high-quality developments with the expansion of the London office of Elian Estates in Berkeley Square, Mayfair.
As one of the biggest development companies in Cyprus, Elian Developers offers villas and apartments for sale or rent in the south eastern coastal region of the country, working alongside its sister company, Elian Estates. Investment opportunities are available with two year rental guarantees of 5% of the purchase price and up to 80% mortgages. With free inspection trips available to qualifying buyers, Elian Estates is poised to show off its extensive property portfolio in Cyprus. The company will help buyers along the path to making their own Cypriot property investment.
The Cypriot property market has continued to achieve growth rates of 15-20% annually, fuelled, in part, by the country's accession to the European Union in 2004. Cyprus is a favourite for Britons - 60,000 of whom are estimated to have bought a second home there, attracted by the region's 340 days of sunshine per year and its affordability when compared to other popular European investment locations.
Commenting on the expansion of Elian Estates' London office, Mr Elias Elia, CEO of Elian Group, said: "Cyprus continues to gain in popularity for British property investors and it's not just the sunshine that's attracting them. With the country's developed infrastructure, favourable tax regime and increasingly good air links from the UK, Cyprus' growth and investment potential will continue to outperform many other European destinations."
For further information, visit eliandevelopers.com.