Last chance to dine with the gods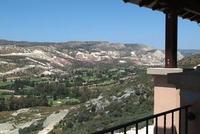 For those wishing to take advantage of the phenomenal success that has and continues to be Aphrodite Hills, Cybarco Plc is delighted to announce, that today, it is releasing the last residential units at this multi-award winning resort – Apollo Heights – to the UK market.
View from Apollo Heights
Those with an investment in this golf, leisure and residential development, will have already realised year on year capital returns of 15-20% for the last five years. But that does not equate to a downturn from here on in, as the Republic of Cyprus not only has one of the most stable economies in Europe as well as one of the lowest crime rates, it also has a future that is shining as bright as the mid day sun.
Incorporation of the Euro in January 2008, oil and gas exploration licenses off the south coast of the island to be issued by the end of 2007, major infrastructure projects already under construction and the growing number of international organisations establishing a hub on the island to take advantage of the neighbouring 350M consumers, means that this small island's future is most definitely not 'in the hands of the gods'.
Apollo Heights is a finished, landscaped development of 82 units, including 15 one-bed and 61 two-bed apartments as well as 6 three bed luxury detached villas. The apartments share a number of communal pools, whilst the villas have the pleasure of individual swimming pools and private gardens.
The British have come to expect exacting standards from Cybarco – the developer having 'raised the bar' in Cyprus. Apollo Heights delivers in all senses of the phrase – be it quality, location or accompanying facilities – an extremely low density build on a superior development with first class facilities and a quality of finish that is second to none. Fixtures and fittings have been chosen accordingly, with Villeroy & Bosch bathrooms and 'top of the range' kitchen appliances.
Finish at Apollo Heights
But Apollo Heights is not just about living quarters and returns on investment, it is about actual living and in this case, living = lifestyle. Apollo Heights won't appeal to everyone, but it should appeal to those who want to own a property or live in one of the most beautiful parts of the Med – the area is full of olive and carob trees, is protected by forests on three sides and overlooks the Med on the fourth.
It will appeal to those who want to have an international Cabell Robinson golf course on their door-step and one of the most exclusive spas – The Retreat – within stepping stones.
It will appeal to tennis players (11 courts), beach lovers (only 10 minute drive), culture lovers – there is to be a traditional amphitheatre on site and those who can appreciate the multi-cultural diversity of international cuisines.
It may not be for everyone, but with an international airport only 10 minutes away, it is definitely for those with a sporting disposition, a flair for investment or those who choose to avoid 'airport hassle'.
Prices range from CY£180,000 – CY£546,000.
For more information, visit cybarco.com.