Cyprus offers safe environment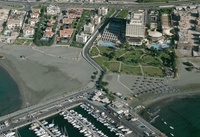 Cyprus is an excellent investment destination but it is also a very safe environment in which to live. In fact, so safe, a number of Russian businessmen leave their wives and children in Cyprus permanently when they travel away on business.
Southern Cyprus has always been known as a place where there is little crime but it was also a fairly sleepy location at the far Eastern edge of the Mediterranean ideal for holiday homes and as a retirement base but this is changing radically.
The appeal to the Russians is that they can take advantage of the Tax regulations between Cyprus and Russia which means that they can legally avoid taxes if the property in Cyprus is owned by a Russian based company.
The Russian community has grown particularly in Limassol where astute business people have seen the potential for capital growth in property due to the forthcoming Limassol Marina. This is to be a major complex of high quality homes, together with commercial and yachting facilities, some on glamorous man made islands. Located at the historic harbour this superb construction will bring Cyprus into the world property market sphere.
Other facilities attracting the Russians are the high educational standards and good private schools for their children.
It is all these factors that are also attracting savvy English buyers who have always had a great love for the island but now see its potential in a new light.
"Without a doubt Southern Cyprus is becoming a chic and sophisticated country in which to own property. The Government's plans for future growth will potentially change the whole ambiance of the island in the next few years making it excellent for investment", says Serge Cowan, MD of Unique Living. "Geographically the island's location makes it superb for business people needing to reach all parts of the world. Financially the prospect is for a very fine future".
Certainly the country has an excellent infrastructure from roads and airports to high quality medical and education facilities.
Unique Living are currently marketing a number of fine homes in Southern Cyprus with over 44 homes in the Limassol area alone and have been officially appointed as a UK agent for marketing of the Limassol Marina, when it is officially launched.
Currently available is a superior home literally on the beach front at Limassol for £5,843,962 approx/7,350,000euros. This five bedroom villa with private pool and garden is located next to St Raphael Beach Hotel. With marble and granite floors, an Italian style kitchen, fireplace, Jacuzzi and surveillance camera system plus prime location, this is a superb opportunity to secure an exceptional home.
Other properties currently available through Unique Living include
a four bedroom detached villa built less than five years ago just 15 minutes drive North West of Limassol town and less than five minutes from the sea front. The property is gated and has full alarm and cctv security, private pool, gardens and garaging. 1,449,048 euros/ £1,150,351 approx.
Amathusa Coastal Heights are brand new beachfront villas and apartments in varying styles and design. The properties border a beach front road and eucalyptus grove to the South with unobstructed sea views. All properties enjoy landscaped gardens and private swimming pools.
Prices for two bedroom apartments from 335,000 euros/£265,945 approx.
For more information, visit uniqueliving.com