Odsey House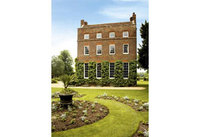 Odsey House, built in the early 18th century, is said to be the only surviving purpose built racing lodge in England, which partly accounts for its Grade I listing.
Constructed by command of the 2nd Duke of Devonshire, it was built near Odsey Racecourse, where the Duke maintained a collection of racehorses. He commissioned the house to be built on Odsey Estate so he could have a residence close to where these horses were trained.
Odsey house imitates the Duke's London residence and is built using techniques similar to other great houses in North Hertfordshire, rendering it a compact and elegant early Georgian mansion. The interior of Odsey House is impressive and was designed by William Kent, the great architectural designer. The drawing room shows off several of Kent's trademarks in design such as the small pineapples seen at the top of the room's mouldings and in a magnificent Coquille painted in the rear of a display niche, creating an effect of discreet grandeur throughout.
The attractive entrance hall has a beautiful tiled floor, creating an imposing first impression. Accommodation is arranged over four floors, with seven bedrooms, four bathrooms and three awe-inspiring reception rooms as well as a delightful a conservatory. There are even staff quarters to ease the stress of being a host.
The gardens of Odsey House are probably its most outstanding feature. They benefit from a vast array of herbaceous rose and flower borders delightfully placed throughout the lawns. There is a miniature lime avenue which gracefully leads to a secluded area of woodland and an ornate archway leading further to a yew tree walk. There are a great variety of mature specimen trees within the gardens, and splendid views that extend as far as the neighbouring parkland. There is also a private walled garden to the west.
Odsey is located between the market towns of Royston and Baldock, on the boundary of Cambridgeshire and Hertfordshire, making the house well suited to benefit from the services of the neighbouring market towns.
Odsey House is an enchanting property with magnificent mature gardens and recreational and educational facilities in close proximity, making it ideal for family life.
Communications are excellent, with the A1 providing easy access to central London and the M25. Mainline rail services are available from Baldock and Royston to King's Cross station and Stansted Airport is less than an hours drive.
Guide price: £1.75m
For further information, visit knightfrank.co.uk.