Work from home in style - Home offices don't have to be boring!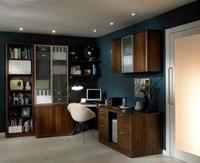 Now with most households owning a PC and with over 3 million people using their home for work there is an increasing need for home offices that are both super stylish and well designed.
Hammonds – the home office, bedroom and closet people - has just introduced two cutting edge finishes to its top selling home office range Elan that meets the needs of today's home-workers.
Over the last decade, home-based working has been one of the fastest growing sectors of the UK economy, with growth fuelled by easy access to cheaper PCs, better quality communication (broadband) and the Government's push towards flexible working. So as part of Hammonds' dedication to new product development the firm has been reviewing its range of home offices and continuously uses market research to identify what customers really want from offices.
Hammonds has identified that despite a 10% growth year on year in the market, 75% of people who work from home have never bought home office furniture, not knowing that it can be both stylish whilst being tailored to you own individual storage needs.
Hammonds specialises in professionally designed fitted office furniture that will ergonomically and efficiently aid the performance of your personal working environment.
Following demand for European influenced designs, Hammonds identified a niche in the market for finishes that would bridge the gap between contemporary and traditional, yet still retain the simplicity of modern styling.
With the on-going success of the Elan range and its original beech finish, it was natural that the portfolio of this range be extended, most notably with a darker Walnut finish, whose rich grain works well with a wide palette of colours, from light to dark décor. In contrast, Elan will also be available in White, providing an alternative for those looking for a brighter, more contemporary working environment.
To add a bold style statement, Hammonds is using aluminium as the finishing touch to both ranges, which will incorporate a customary dual workstation top with a colour matching or a contrasting aluminium inset, which can be complemented by aluminium finish cupboard doors and aluminium framed opaque glass doors.
Elan Walnut and White will also incorporate the optional extras including glass monitor stands for those flat screens, monitor arms, thicker shelving, and tall open display bookcases, for all your storage needs. Together with the benefits of fitted shelving, customised drawer space, cable management and slimline filing the Elan ranges can be personalised to maximise the space available, no matter how awkward it is.
Lorraine Price, Marketing Services Manager commented, "On going product development is at the core of the Hammonds philosophy, and with the home office market booming and the use of the home office everyday now commonplace, it is important that we keep on top of emerging trends to meet customer demands. With two new colour choices available, Elan can now offer variety in terms of design, whilst still retaining the practical storage elements which can help people create the perfect working environment."
Surprisingly to some, Hammonds is confident that virtually every house or apartment can now accommodate a full range of office furniture and equipment with ease. Hammonds advises good planning and well-chosen furnishings, after all, it is likely that a lot of time will be spent in the home office space so installation and maintenance of a suitable working environment from the off is well worth considering.
Hammonds now has over 50 different styles and ranges of fitted bedroom and home office furniture available in almost 100 outlets, to find your nearest store visit hammonds-uk.com.