High-chic in the Cyprus sunshine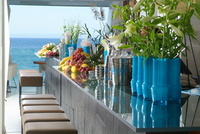 The Londa is a contemporary boutique hotel with a beach front setting in Limassol that has become popular both with holiday-makers who are attracted to high chic along with sunshine, and business guests who like the close proximity to the city's thriving commercial district.

To compliment the calm efficiency and warm welcome of this award-winning* hotel the Londa is announcing enhanced spa facilities and treatments for guests from March 2009.

Mona Pashia joined the Londa Spa last year as spa manager, and she has already implemented changes to reflect her aim of combining natural elements with the latest technology, delivering quality therapies by highly trained professional staff. She explains, "A high proportion of the Londa's guests are professionals who are here in Cyprus on business and we also attract guests who have high energy lifestyles back at home. Quite often they rarely get the opportunity to relax so we aim to offer unparalleled peace and serenity here in the Londa Spa, as well as visible results from our treatments.

"It's quite simple", she says, "We want to make every client feel like a prince or princess while they are here. Everyone needs a little special attention. Our new couple's facility where treatments can be enjoyed together is particularly popular."

And it works. Since Mona introduced selected treatments such as Peace of the senses, (a soothing massage with orange and marjoram essential oils to combat stress €80 / 55 min) and others like Orient essences ceremony (based on the use of essential oils, exotic elements and warmed spices for relaxation, detoxification and to awaken the senses €100 / 1h15 min), bookings have trebled.

The interior design of the Londa is a contemporary classic. The highly unique style created by a design team from Milan shows influences from the heritage of the island and from the Mediterranean including Cypriot lace, antique filigree silver and wood. White marble on the ground floor accentuates the view out to the sea through a wall of glass which the Londa is famous for. Furnishings follow neutral shades and clean lines, while bedrooms are given vibrant accents of colour and texture.

With just 68 rooms and suites spread across seven floors, the atmosphere at the Londa is intimate and welcoming. All rooms have five star facilities including Nespresso coffee machines, luxury Molton Brown cosmetics, high speed internet access, wi-fi, and cordless phone.

For more information, visit Londahotel.com.