Short spa breaks to Norway, Holland and Denmark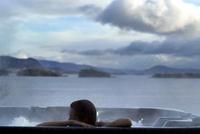 If you want to escape from it all and really treat yourself, DFDS Seaways has the ideal short break for you – a spa break in Norway, Holland or Denmark. With DFDS Seaways your shortbreak begins the moment you step onboard.

Simply check in to your cabin, sit back and relax. Or you can check out the fantastic onboard facilities, including shops, restaurants, bar, nightclub, live entertainment and on route to Norway even a swimming pool and cinema!

And on a spa break you'll be travelling in a Commodore Class cabin, for that little extra comfort!

So choose one of the breaks below and enjoy!

6 Nights at Solstrand Hotel, Norway
Sailing from Newcastle to Bergen you can experience a real taste of stunning Norway at this fjord side five star hotel. Family run Solstrand hotel has excellent spa facilities. With magnificent views of the fjord and mountains, the hotel blends old world charm with modern facilities including fully equipped Spa and Wellness Centre providing relaxing beauty treatments.

Prices start from £436 per person and include 3 nights onboard ship in Commodore Class including breakfast, carriage of a standard car, 3 or 4 nights at the Solstrand Hotel including breakfast.

3 Night Spa Break to the Hague – 4star,
The famous grand Steigenberger Kurhaus Hotel is set in unique surroundings, right next to the seashore on the Boulevard at Scheveningen, with spectacular views of the beaches and dunes. The hotel's Kuur Thermen Vitalize offers a range of treatments from plunge and herb baths to Dead Sea floating baths, massage and reflexology. Prices start from £256 and include two nights onboard plus breakfast, one night at the Kurhaus Hotel including breakfast, and carriage of one standard vehicle. Sailing from Newcastle to IJmuiden

3/4 Night Spa Break to Copenhagen
Sailing from Harwich to Esbjerg you then relax in first class as you travel by rail to Copenhagen, the lively city where you can enjoy true luxury at the world famous Hotel D'Angleterre. The stylish hotel with over 250 years of history is one of the oldest De Luxe hotels in the world and offers a wide range of treatments and state of the art fitness facilities. Prices start from £349 pp and include two nights onboard ship in a 2 berth Commodore Class cabin and breakfast, 1 or 2 nights at the Hotel D'Angleterre including breakfast, return first class train tickets from Esbjerg to Copenhagen.

For more information, visit Dfds.co.uk.