Uruguay on horseback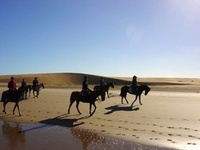 A country the size of England and Wales with a warm, friendly population of about 3.5-million, unexpectedly diverse landscapes, vast open skies and stunning beaches – Uruguay is a lesser-known destination ideal for riding.

Ride well-schooled horses along the Atlantic coast, over sand dunes, through native butia palm groves then alongside working gauchos, staying in traditional estancias and dining on superb home-cooked meals during Equine Adventures' 9-day Ride Uruguay holiday.

An initial night is spent in Montevideo before the ride begins in the province of Rocha on the Brazilian border. From the stone Fortress of San Miguel, a reminder of the turbulent years from its discovery by Europeans in 1516 to independence in 1828, take in spectacular views across one of South America's largest fresh water reserves.

After lunch, enjoy an exhilarating ride across the rolling hills of San Miguel National Park, offering panoramic views over the Brazilian border. Return to the fortress for a sumptuous dinner and a good night's sleep! Next day, cross the border, riding for several kilometres in Brazil and across wide flat expanses of pastureland, passing locals and horse carts along the way. Enjoy a picnic lunch before continuing along deserted beaches to La Coronilla, base for the night.

After breakfast, ride into Santa Teresa National Park and the immense granite Santa Teresa Fort, from where Whales and Dolphins may be seen. Transfer by road to meet new horses at Laguna Negra – where there's a tempting opportunity for a bareback ride and swim! The area is fantastic for wetland birds including Black-necked Swan, Spoonbill and Ibis. After a lakeside lunch, ride towards the Don Bosco hills through tropical palm groves and forests of Strangler Fig before reaching Estancia El Sauce.

Here, experience an authentic working estancia and gain a unique insight into the gaucho way of life. Enjoy fast riding across the property to view livestock, rice fields and other crops, spotting wildlife such as Capybaras, Rhea and Otter along the way, then relax by the pool before dinner.

Later, follow the coastline to the fishing village of Cabo Polonio and continue across huge sand dunes to El Charabon. Two nights are spent here enjoying scenic rides across the estancia lands, traversing Eucalyptus forest and vast grassland, offering numerous wildlife sightings from the saddle. Finally, ride alongside local gauchos, helping them herd their cattle before returning to Montevideo for homeward flights.

The tour costs from £1,125 p/p (ride only) including return transfers from Montevideo, hotel, estancia or ranch accommodation, most meals and all riding.
Flights are not included but are available from Equine Adventures.

For more information, log on to Equineadventures.co.uk.