Discover Latin America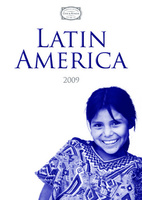 Cox & Kings has launched its new Latin America brochure for 2009, featuring a comprehensive programme of escorted group tours, private journeys and tailor-made holidays throughout Central and South America, and Antarctica.

An inspiration for Arthur Conan Doyle's 'The Lost World', Venezuela is home to tabletop mountains and waterfalls, snow-capped mountains, emerald green lakes and lowland plains. Cox & Kings' new group tour Venezuela: Journey to a Lost World explores the natural beauty of this fascinating country over 11 nights.

"We're delighted to be launching travel to Venezuela for 2009" says Cox & Kings' Latin America Product Manager Vessela Baleva. "It offers some of the most beautiful, unexplored scenery in the entire continent and Cox & Kings' new 'discovery tour' really showcases the breadth of what we can offer in Latin America, from super luxury in Chile or Brazil to more adventurous tours in Guyana or Bolivia, and now in Venezuela."

Cox & Kings has reported Central America to be the company's fastest growing area in the region over the last 12 months, with bookings to Cuba and Belize both up by more than 50% on last year. In recognition of the region's recent success, Cox & Kings has launched a new private journey Grand Tour of Central America, which explores Panama, Costa Rica, Nicaragua and Guatemala.

Central America Product Manager Marie-Louisa Lowther explains "we have been seeing more and more tailor-made requests for holidays combining these Central American countries. Our new private journey makes an ideal two-week introduction, or can be used as inspiration for flexible, tailor-made visits." Prices start from £4,295 per person.

The company has also launched two new private journeys in Mexico following sustained interest in the area. Vessela Baleva says "the inclusion of Chichen Itza in the New Seven Wonders of the World has really helped promote the Mayan sites of Mexico, and we're seeing increasing numbers of people venture further off the beaten track, travelling away from the beaches to visit the jungle and fascinating hidden ruins."

A Luxury Journey Through Mexico is a new luxury private journey that combines Chichen Itza with a visit to the most splendid northern colonial cities. Stay in luxurious and carefully restored colonial hotels and haciendas throughout, and finish on the Pacific coast near the enchanting fishing village of Zihuatanejo. 12 nights from £3,845 per person.

Another area stimulating interest is the Peruvian Amazon. 60% of Peru is covered by the Amazon basin; an area that is home to 10,000,000 living species, including 2,000 fish species, 1,200 birds and nearly 300 mammals. Wildlife and environment enthusiasts will appreciate this undiscovered region, and the best way to see it is by river. Take a seven-night cruise onboard Delfin or combine a luxury three night cruise on Aqua with the boutique Inkaterra properties on the new Exclusive Peru private journey.

Exclusive Peru: This 11-night luxury private journey includes a three-night cruise on the luxurious 'floating hotel' designed by famed Peruvian architect Jordi Puig. Stay in Inkaterra's sumptuous new Cusco property 'La Casona', visit Machu Picchu and experience the country's outstanding gastronomy while staying in luxurious boutique hotels. Prices from £5,095 per person.

Ecuador Nature Trails: This 11-night private journey explores Ecuador's countryside and natural reserves, home to vast collections of interesting flora and fauna. Highlights include visits to the Amazon, cloud forest, thermal hot springs and botanical gardens. Prices from £3,075 per person.

Chile & Argentina: Across the Andes. This private journey allows you to explore dramatic scenery of rivers, lakes, snow-capped volcanoes, pristine forests and glaciers on both sides of the Andes over 18 days. Visit Chiloe Island, with its distinct culture and traditional wooden villages; travel through the scenic 'Seven Lake Route' in Argentina and finish in the vibrant city of Buenos Aires. From £3,845 per person.

Boutique Argentina: This 11-night luxury private journey combines the culture and glamour of Buenos Aires; the beauty of the country's landscape of lakes, mountains and glaciers; and Mendoza, the 'land of sun and good wine' in the foothills of the high Andes. Stay in carefully selected small hotels that capture the spirit of Argentina. From £4,585 per person.

Argentina: Secrets of the North. Discover a lesser-known Argentina on this 13-night luxury private journey that combines the wildlife of the second largest wetlands in South America, the UNESCO World Heritage ruins of the Jesuit missions, the spectacular Iguazu Falls, and the striking scenery and unusual culture of the northwest, a region once settled by the Incas. Prices from £4,895 per person.

Copper Canyon & Baja Peninsula: Discover some of Mexico's most dramatic scenery on this 10-night private journey that combines one of the greatest train rides in the world with the rugged and desolate landscape of the Baja Peninsula. Travel through the grassy plains, pine forests and stunning canyons of the Sierra Madre to the hot deserts, cactus shoreline and sandy bays of the Sea of Cortez. From £2,895 per person.

For more information, log on to Coxandkings.co.uk.