Amazon adventures in Peru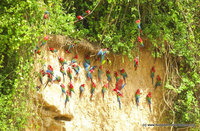 Study the four icons of the Amazon; jaguars, pumas, parrots and peccaries (pig like creatures) this winter with Biosphere Expeditions – the award winning, non profit making conservation specialist which is celebrating its 10th anniversary.

You will join a small international team in Peru working alongside local biologists undertaking a highly important wildlife survey on these four species in a biodiversity hotspot. Your efforts will go towards declaring this a protected area and developing sustainable management plans for this part of the Peruvian Amazon.

You will be working from hides observing Macaws feeding on riverside clay licks, and studying peccaries, deer and top end predators from a hide inside the rainforest and be based in a comfortable lodge in a remote part of the forest.

Expeditions run between 25 October – 6 November; 8-20 November; 22 November – 4 December and cost £1130 per person excluding travel to and from Peru.

For more information visit biosphere-expeditions.org.