Island hopping the world's most romantic destinations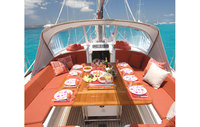 New for 2010, the privately-owned luxury yacht Cookielicious is hosting Romantic Getaway Cruises over five separate weeks in four different and exotic locations.

These breaks allow couples the chance to sample complete indulgence at a fraction of the price of an exclusive yacht charter.

For each luxury break three couples will get to enjoy the rare and sumptuous surroundings of the professionally crewed 72ft, three-cabin yacht. Each room includes a flatscreen TV, DVD, CD with iPod connectivity and internet access.

The itinerary for the Romantic Getaway Cruises includes secluded bays, crystal clear coves and all the tranquillity that comes with island-hopping in some of the world's most romantic destinations.

For the more energetic, the option of waterskiing, wakeboarding, windsurfing and kneeboarding are offered during the day, along with the choice of helping to crew the yacht.

If food is the language of love, then the onboard meals are in-keeping with the theme of the Getaway Cruises. Lunch and dinner are created from the freshest local ingredients and served with fine wines.

Referred to as the 'Bentley of the Seas', this winter the well-appointed Oyster yacht will visit the British Virgin Islands and the Grenadines before sailing onto Croatia and Sardinia for the summer season. The 2010 sailing schedule for these five-star cruises is:

Grenadines: 15 – 22 January / 16 – 23 March
British Virgin Islands: 23 – 30 April
Sardinia: 19 – 26 June
Croatia: 11 – 18 September

Prices for seven nights full board on a Romantic Getaway Cruise start from £4,500 per couple staying in a Double Port Cabin. This includes three meals per day*, one bottle of wine with lunch and dinner per couple, soft drinks, unlimited watersports activities, fuel, berthing and local taxes. The other accommodation options are the Forward VIP Cabin (£6,000 per couple) and Master Cabin (£7,500 per couple).

For more information visit cookie72.com.

* As with a luxury chalet experience, the crew will have one evening off but will use their expert local knowledge to help make recommendations and reservations on the couples' behalf.