New direct flights open up Iceland's next 'must see' destination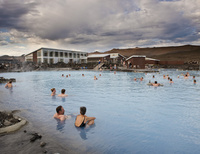 In Iceland the old idiom 'it's grim up north' does not apply and with the launch of new direct flights next summer to Iceland's second city, Akureyri, UK visitors can now find out why.

Known as the 'Capital of the North', the new Akureyri gateway opens up a fascinating alternative holiday destination to Reykjavik and the south.

Just 60km from the Arctic Circle and bathed in 24-hour daylight from May to August, Akureyri is the ideal starting point to discover some of Iceland's most captivating but lesser known landscapes and natural wonders.

The dramatic and surreal Lake Myvatn area, a volcanic hotbed of boiling mud pools, rock and lava formations, is the north's most famous attraction – the 'must see' after the Blue Lagoon and Golden Circle.

Other attractions close by and not to be missed include Europe's most powerful waterfall, Dettifoss, the Hljodaklettar or 'Whispering Cliffs' rock formations, Asbyrgi (Iceland's most awe-inspiring canyon), the striking volcanic wonders of the Askja caldera and the explosion crater Víti ('Hell') - made famous by NASA's astronauts as their practice ground before the moon landings. All are now part of the new Vatnajokull National Park.

Wildlife lovers can flock to Husavik, one of Iceland's best whale watching spots, and the shores of Lake Myvatn, 45 minutes inland, offer a twitcher's paradise - the only breeding ground in Europe for the Barrow's Goldeneye.

North-west Iceland has a beautiful coastline, with off shore islands steeped in history, myths and legends. The countryside is dotted with countless horse farms – the perfect place to head off the beaten track on a study Icelandic horse.

Iceland's cutting edge restaurant scene does not end with Reykjavik; creative chefs can be found across Akureyri and the north, spearheaded by Friðrik Valur Karlsson, who trained at London's renowned River Café and now runs acclaimed restaurant Fridrik V.

More traditional foodies can try Hverabrauð, a rich rye bread that is baked in the geothermal earth at the Cow Shed Café, and sample the traditional meat soup Kjötsúp at Gamlibær, an old-fashioned Icelandic tavern by Lake Myvatn.

History buffs can go back in time at the Icelandic Herring Era Museum in Siglufjörður, Iceland's most northerly town and former herring capital of the North Atlantic.

Finally, no trip to the region would be complete without taking a refreshing dip in the Myvatn Nature Baths, the 'Blue Lagoon of the North'.

For more information on North Iceland visit northiceland.is.

Iceland Express's weekly flights to Akureyri start in June 2010 from London Gatwick – see icelandexpress.com.

For more information on Iceland go to visiticeland.com .