Norway's Fjords voted "Top Iconic Destination"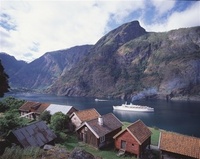 National Geographic Traveler has crowned Norway's fjords as the top iconic travel destination in its sixth annual 'Places Rated' Destination Stewardship survey in conjunction with National Geographic Society's Center for Sustainable Destinations.

133 celebrated destinations from around the world were considered according to how they have weathered he pressures of mass tourism and other threats.

Like the first Destination Rated survey in 2004, Norway's fjords region has again taken top honours, with a score of 85 points (top score).

Judges noted the gorgeous scenery and well-preserved rural life that are vigorously protected.

Kristian B. Jørgensen, Managing Director, Fjord Norway, said: "We are surprised and very pleased to have been given such an important accolade from National Geographic Society's expert panel. We regard this as a great honour and challenge. Such an award is an inspiration and reminder of how important it is for all of us to preserve our unique nature and those qualities that make Norway's fjords such a spectacular experience for the many tourists visiting and those that live in the area".

Jonathan Tourtellot, Director of the Center for Sustainable Destinations, which conducted the survey, said: "We hope the survey will bring attention to the places faring well, as well as to those in trouble, often due to reckless development and commercialism. If there is a blessing to the global downturn, it is the respite from such rampant, quick-buck degradation of Earth's remaining beautiful places."