Ponta Dos Ganchos voted "Resort of the Year 2010"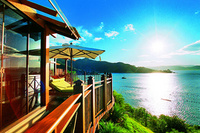 Ponta Dos Ganchos Exclusive Resort, located on the Emerald Coast of Brazil has been awarded the title of "Resort of The Year 2010" by Guia 4 Rodas, the most prestigious Brazilian Travel Guide.

The multi-award winning resort is elated with this accolade. 2009 has been an amazing year for the prestigious five star Relais and Chateux property. Ponta Dos Ganchos received the award for "Most Romantic Hideaway" by Conde Nast Johansens in February and recently gained the title of "World's Sexiest Beach" by Concierge.com.

"Guia 4 Rodas is the most esteemed travel guide in Brazil. Ponta Dos Ganchos is elated to be awarded the title of "Resort of the Year 2010". This award emphasises our impeccable facilities, the exquisite flavours of our cuisine and the quality of our services. 2009 has been a fantastic year for the resort and I can accredit this to our hard-working and dedicated staff" comments Nicolas Peluffo, General Director of Ponta Dos Ganchos.

For more information, visit pontadosganchos.com.br.