Baby Kia brings family happiness and a car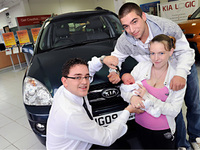 Kia Motors has just added a new baby to the range. Smaller than the Picanto, the latest Kia, launched on Sunday, weighs just 6lbs 7oz and comes only in pink.
When mum-to-be Sam went into labour on Sunday morning, she was looking forward to meeting baby Tilly for the first time. Tilly, however, had other ideas and decided she was coming sooner rather than later – in the back of Granny's Kia Carens!
Proud parents Sam and Tony decided to ditch the name Tilly and mark the unusual birth-place by naming her Kia instead.
When Kia Motors found out about the unusual introduction to the world, they decided the occasion couldn't pass without celebration and have contacted the family with the offer of a Kia Carens of their own.
The parents have been given a top-of-the-range seven-seat 2.0 CRDi Carens by the car company. Delighted mum Sam said "I'm just so chuffed. I can't believe it. At the moment we only have a four seat car so this will mean we can get the family about in comfort. Thank you to Kia for arriving and to Kia Motors for the car!"
Michael Cole, Kia Motors (UK) Ltd., said "All of us at Kia are delighted for Tony and Sam and flattered that they have called their new baby Kia after she was born in Granny's Carens.
"We know how good the Carens is for families – especially growing ones - so we thought we should help them out by giving them a Carens of their own! We would like to welcome Kia to the Kia family and wish her a wonderful life."