Emirates shines bright in 'the land of the rising sun'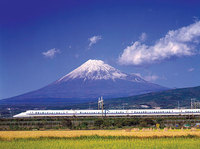 Seven years since launching operations to Osaka, Emirates has unveiled plans to launch direct services to Tokyo – Japan's capital city and one of the world's foremost economic centres.

Tokyo will be Emirates' 102nd international destination, and closely follows the recent launch of operations to Durban and Luanda. With the introduction of flights to Tokyo, Emirates will offer two non-stop services between Japan and Dubai. At present, Emirates operates daily services to Osaka.

Starting 28th March 2010, Emirates will fly non-stop to Tokyo five times a week on every Monday, Thursday, Friday, Saturday and Sunday. The service will be operated by a state-of-the-art Boeing 777-300ER aircraft offering a three-class configuration of eight First Class Private Suites, 42 Business and 304 Economy Class seats.

Emirates' longstanding partnership with Japan Airlines will be expanded to include a code share on the new Dubai-Tokyo-Dubai services. The flights will be identified with the Emirates 'EK' code as well as with Japan Airlines 'JL' code.

His Highness Sheikh Ahmed bin Saeed Al-Maktoum, Chairman and Chief Executive, Emirates Airline & Group said: "Emirates is delighted to announce the introduction of direct, non-stop services between Dubai and Tokyo. We have always stated our desire to expand our links with Japan – a market we are extensively committed to. During the seven years of our operations to and from Osaka, Emirates embarked on a multi-million dollar programme to promote the route through our global network of offices in over 60 countries as well as through advertising, public relations, events, and company brochures and literature.

"The comprehensive campaign successfully opened up Japan to new markets across the world. As an example Japanese working in South America who traditionally travelled trans-Pacific started travelling to/from Japan on Emirates, taking advantage of our smooth connections via Dubai."

EK 318 will depart Dubai at 02:50 hours and touch down at Tokyo's Narita International Airport at 17:55 hours the same day. At 21:40 hours, return flight EK 319 presents travellers a convenient departure time at the end of a working day, and ensures an ideal start to business in Dubai as it touches down at 04:35 hours the following day. The service connects seamlessly to key centres in Europe, Middle East and Africa.

Sheikh Ahmed continued: "As one of the command centres of the world's economy, Tokyo requires robust connectivity to thrive. Emirates' direct services will link the city to over 100 international markets spanning six continents, facilitating the smooth transfer of business and leisure travellers as well as cargo.

"The Emirates brand is well-known in the Japanese market and our service is appreciated by Japanese travellers. Over 200 Japanese crew work at Emirates, operating flights to and from Osaka; Japanese delicacies like sushi are served on our flights; and Japanese movies are shown on 'ice' – Emirates bespoke inflight entertainment system offering the largest programming in the skies."

Presently the UAE and Japan share robust trade relations with Japanese technology firms and UAE energy companies collaborating on several projects. Already Dubai is home to 300 Japanese companies and the largest Japanese community in the Middle East. Emirates services to Tokyo will enhance the access and connectivity for VFR (visiting friends and relatives) traffic on the Dubai-Japan route.

The 23 tonnes of belly-hold cargo capacity on Emirates aircraft will support Japanese exports of mechanical components, electronic goods and automobile parts to the UAE, and its import of gas and oil products. Dubai is an important hub for the re-export of Japanese manufactured products to the Middle East, Africa and Central Asia.