Sales gather pace as first residents move into Harmony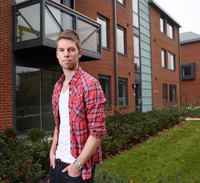 Every apartment in the first phase of homes at Harmony has now been sold and the first residents have moved into their new homes. Sales are continuing to gather pace at this attractive new development by Inspace Homes and over half of the homes in the second phase have already been reserved, confirming the popularity of this development and the growing strength of the housing market.

Located on Twickenham Road, close to Syon Park and Isleworth village, Harmony is a smart contemporary scheme of 280 one, two and three-bedroom apartments set in landscaped grounds.

Sue Gresswell, Sales & Marketing Director for Inspace Homes, comments: "Harmony is coming alive now that the first homes have been built and it's easier for people to imagine what living here would be like. The excellent quality of the apartments and great location close to London and Heathrow are resulting in very strong sales in the lead up to Christmas."

Amongst the first people to buy a home at Harmony is 26 year-old management accountant James Rawson, who moved into his new one-bedroom apartment in early November. "I'd been living at my parents' home so I could save the deposit," says James. "House prices are bound to rise, so I thought I'd better get on to the property ladder quickly." James had been living in Twickenham and did not want to move too far away from his family and friends. He adds: "The location of Harmony is ideal for me. Isleworth is very similar to Twickenham, but much more affordable for first time buyers."

Working for an energy company based near Waterloo, James has a very easy journey into London every day. It takes him just five minutes to walk to Syon Lane mainline station, which has a very regular schedule of direct services into Waterloo taking around 35 minutes.

James' second floor apartment has an open-plan living/dining area that incorporates a well-equipped designer kitchen. With large windows and unusually high ceilings, his home feels light and spacious. James adds: "My home faces Syon Park and I've got fantastic views over the parkland. I never thought I'd get such a great outlook from an apartment."

Prices at Harmony start from £195,000 for a one-bedroom apartment and £239,950 for a two-bedroom apartment. All carpets, flooring and kitchen appliances, including a dishwasher and washer/dryer, are included in the price. Many of the homes have a glazed balcony or terrace and surface or under-croft parking is available for the majority of the apartments.

Inspace Homes has recently launched its unique istart scheme to help first-time buyers, allowing them to pay just a ten per cent deposit with a further ten per cent funded by an interest-free loan from Inspace Homes.

For more information and details on buying options, visit harmony-isleworth.com. The Marketing Suite at Harmony, Twickenham Road, Isleworth TW7 6AF, is open 10am to 6pm Monday to Friday and 10am to 5pm on Saturday and Sunday.