Pistonheads.com partners Caterham Academy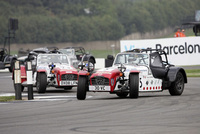 Iconic sportscar marque, Caterham Cars, has teamed up with the UK motoring forum and news source, Pistonheads.com, for the 2010 Caterham Academy.
Pistonheads, which boasts 2.5 million unique users per month and a vibrant motoring forum featuring 117,000 members, will be the title sponsor of next year's series, making it the Pistonheads.com Caterham Academy.
Caterham's unique, one-make Academy is widely acknowledged as being the best value introduction to motorsport for aspiring racing drivers. Since 1995, more than 700 novices have been taken through the race license process and their first full season of racing in sprints, hillclimbs and track events, emerging as fully-fledged racers.
The link-up with Pistonheads will see the Academy featured in race reports and feature articles at Pistonheads.com throughout the 2010 season, while staff writer Matt Rigby will gain a close-up insight into the exciting world of Caterham racing by competing in the Academy himself.
Pistonheads editor, Chris Rosamond, said: "The Caterham Seven is a legendary car that is a firm favourite with our users, so it made perfect sense to hook up with the Academy. At PH, our strap line is 'speed matters' – the people who read our news and use our forums are true petrolheads, and the accessibility to real motor racing that the Academy offers fits exactly with what I think most of our users would love to do."
Caterham Cars sales and marketing director, Andy Noble, added: "The Caterham Seven is a classic enthusiast's car and there isn't a better hub of activity for motoring nuts in the UK than Pistonheads. These are the people that we want to experience the thrill of Caterham driving, so to have the opportunity of offering them some insight and 'ownership' of the Academy is superb."
Perennially selling out its 56 grid places, the Academy straps rookie racers into the seat of a legendary Caterham Seven – hailed as one of the best handling cars of all time. The Academy vehicle's underpinnings are identical in specification to the popular, Ford 1.6 powered Roadsport 125 – a car capable of accelerating from 0-60mph in just 5.9 seconds.
As well as the car, Caterham's Academy package, which starts at £17,995 a season, takes novice racers by the hand to make the season as enjoyable as possible, from preparing them for their ARDS race licence, honing their driving through tuition, to offering technical set-up seminars and organising entry to all seven rounds.
For more information, visit caterham.co.uk.