New Polo gets mint handling from Eibach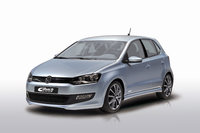 Superminis don't get much better than the perennial Polo – and now, thanks to Eibach, they don't get much better handling either!
The respected German spring manufacturer has announced a new range of chassis enhancements for the much loved hatch, meaning whether whether you're running a 'cooking' version – or something a little higher up the options list, you can enjoy simply incredible levels of handling and ride quality.
The perfect compromise comes in the form of the Pro-Kit package. These progressively wound coil springs are computer matched to work with the factory dampers and lower the car by around 30mm, maintaining a fantastic ride quality, balanced with improved stance and handling.
Those looking for even less body roll, without sacrificing comfort can also opt for the Anti-Roll Kit. This is an uprated front anti-roll bar which gives the Polo a flatter attitude through fast turns, without having to resort to stiffer springs.
The ultimate set-up is the race-proven Pro Street S system, which uses adjustable spring platforms to allow for fine tuning of ride height and stance. Slightly firmer than the Pro-Kit, it still retains class-leading levels of ride comfort and with up to 60mm of height reduction available, the ideal choice for anyone looking to create a truly aggressive appearance, without spoiling the car's impeccable road manners.
Pro-Kits and Anti-Roll Kits come with a comprehensive 5 year warranty on function and finish, with 12 months on the Pro-Street System. Prices £110.00 +VAT for the Pro-Kit, rising to £145.00 + VAT for the Anti-Roll Kit and £620.00 + VAT for the Pro-Street S System.
For more information, visit eibach.co.uk