The new Ford Focus Coupé-Cabriolet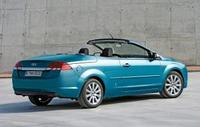 The new Ford Focus Coupé-Cabriolet combines open air motoring with the acclaimed comfort, stability and all-round practicality already associated with the top-selling Focus range. It goes on sale in October and will make its UK debut at the British International Motor Show in July.
Taking its place at the top of the Focus family tree alongside its sporty sister, the Focus ST, the new Coupé-Cabriolet uses a stylish and clever two-piece folding hardtop to give the car two distinct "personalities". The roof function is neat, efficient and reliable: opening or closing takes just 29 seconds.
It's also big on practicality - with the roof closed, the Coupé-Cabriolet offers a best-in-class 534 litres luggage capacity, and with the hardtop stowed, there is still 248 litres of luggage space. No direct class competitor can offer more space.
Elegant Italian Design
Designed in partnership with Pininfarina S.p.A, the Focus Coupé-Cabriolet exudes elegance and style with the hardtop up and down.
Its distinctive rear is characterised by unique tail lights linked by a chrome strip bearing an embossed Focus logo to give the new model a premium feel. This is further enhanced by a unique front bumper shape and distinctive wheel arches.
Inside, the car's dashboard layout follows the style of other Focus models, but with a new colour scheme developed to distinguish it as a flagship – a scheme designed to complement the car's striking exterior. Two different colour schemes are offered: dark, sporty Ebony/Flint, and the warm, elegant Iris/Camel.
Engine Line-up
Together with style and practicality comes choice: the new Focus Coupe-Cabriolet has the option of two petrol and one diesel engine. The versatile 100PS 1.6-litre petrol unit provides 0-62mph acceleration in 13.6sec and a top speed of 114mph. Target combined fuel consumption is 39.8mpg.
The lively 145PS 2.0-litre petrol engine produces a 0-62mph time of 10.3sec and a top speed of 130mph. Target combined fuel consumption is 37.6mpg. And the super-economical 136PS 2.0-litre TDCi diesel powertrain gives 0-62mph in 10.3sec, a top speed of 128mph and targeted combined fuel consumption of 47.9mpg.
A six-speed manual transmission is standard with the 136PS 2.0-ltre TDCi, while the 1.6 and 2.0-litre petrol units are offered with five-speed manual.
Strong and Safe
No matter which engine is chosen, the new Coupe-Cabriolet retains the Focus brand's inspired and involving driving dynamics. This has been achieved by basing the Coupe Cabriolet on the inherently rigid four-door Focus saloon underbody and front body structure and ensuring that most new body parts are made from high-strength steel.
Safety is paramount and Ford's new Rollover Protection Device (RPD) plays a vital role in increasing the Coupé-Cabriolet's passive safety performance. In addition to standard front and side airbags, the RPD is designed to help protect passengers in the event of a vehicle rollover. If the system detects an imminent roll, two safety roll-bars "fire" and extend out by up by 20cm to provide a supportive safety strut along with the ultra-strong windscreen pillars to protect the car's occupants.
UK prices and specification will be announced on the 18th July at the British International Motor Show.