Big Bus arrives in Abu Dhabi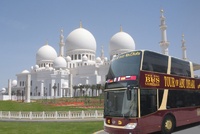 Visitors and residents can now get the chance to see Abu Dhabi as never before with the launch of a new open-top sightseeing bus tour.

The Big Bus Company, a family-owned firm that has operated tours in London since 1991 and Dubai since 2002, now operates in Abu Dhabi, the capital of the United Arab Emirates.

The carefully-designed Big Bus Tour routes take in all the major Abu Dhabi landmarks - from the magnificent Sheikh Zayed Mosque to the historic Heritage Village, and from the luxurious Emirates Palace Hotel to the traditional souks.

A 24-hour ticket allows guests to hop on and off all buses on all routes, giving them the freedom to explore Abu Dhabi at their leisure.

A personal audio commentary with fascinating insight into the city's history and culture is also provided in a choice of eight languages – Arabic, English, French, German, Spanish, Italian, Mandarin and Russian.

"We are all very excited about this latest addition to the Big Bus family," says Chris Compton, General Manager of Big Bus Tours LLC. "Development in Abu Dhabi at the moment is phenomenal as the city works hard to establish itself on the global tourism map.

"The route takes in all of the sights and attractions of this fascinating city and as the city expands, we will grow with it to make sure that all the new sights of Abu Dhabi are included."

Tours depart daily between 9am and 5pm from Marina Mall. Tickets are available from hotels, online from bigbustours.com, or at the Big Bus sales desk in Marina Hall.

For more information log on to bigbustours.com.