Wyndhams fills new Ford Galaxy with stars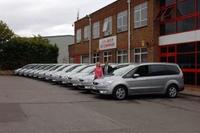 Chauffeur service to the 'stars', Wyndhams Cars, has become the first company to order the new-generation Ford Galaxy for its fleet. Twenty-four silver Galaxy seven-seater MPVs have been delivered to their west London base.

The company has used the Ford Galaxy for its executive passenger car service for the past three years, with 70 vehicles constituting half its total fleet strength.

The new arrivals are Zetec 1.8 TDCi (125ps) diesels with six-speed manual transmission. "It's a brand new vehicle, new engine, new gearbox – and we are impressed," said Wyndham Cars' Fleet Manager, Darren Cumber.

"I drive a Galaxy, as does my wife, and I love it. It's an ideal vehicle for the work Wyndhams does - driving media people or groups of business people who can sit in comfort, chat or hold meetings.

"Many passengers prefer a car like this where they can sit high up and see over the London traffic. The Galaxy has presence, the price is good – it's simply a great vehicle."

Wyndhams Cars buys its vehicles outright. "We normally keep them for two years, but now the new Galaxy is out we plan to move over to it as quickly as possible," said Darren Cumber. The cars will cover some 30,000 miles a year, combining journeys around the capital with inter-city runs.

"The drivers absolutely love them. They like the new layout, they think the

new sat nav system (DVD navigation with seven-inch colour touch screen) looks cool – altogether the reaction has been very positive."

The luxurious new Ford Galaxy seats up to seven adults in comfort and is longer, wider and more streamlined than its predecessor. The foldable seats allow 32 possible layout permutations.

The 125PS 1.8-litre diesel with six-speed gearbox offers fuel consumption of 44.8mpg on the combined circuit, a top speed of 116mph and 0-60mph acceleration in 11.3sec.