Developer solves Turkish mortgage issue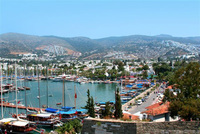 With mortgages for foreigners buying in Turkey still both rare and awkward, the British developers of Horizon Sky, Bodrum, have taken matters into their own hands. Buyers can now take advantage of a 20-year non-status interest-free payment plan which could see you with the keys to a contemporary apartment for just £208 GBP per month. Turkish delight.
Daniel Dias for developer Signature International comments, "Despite gradual progress, mortgages are still very difficult to obtain in Turkey. Interest rates are high, terms restrictive, arrangement fees around 1.5% to 2% and some lenders even charge hundreds of pounds in upfront fees before they've approved your loan. This has left many buyers of Turkish property with no option but to take equity out of their main residence in the UK or risk losing their deposit. Our non-status interest-free payment plan immediately eliminates any worries the client may have over buying at Horizon Sky."
"As long as the buyer is able to pay a deposit then we'll offer our special payment plan," Daniel continues, "after that it's not too dissimilar from a mortgage. If they fail to keep up the monthly installments then the purchaser risks losing their property. Our quality product is a viable long-term investment so we're happy for the property to act as security – we have nothing to lose. As a developer we are solvent and stable and are not only willing to stand by Horizon Sky for the few years of construction but also for the long-term."
Horizon Sky has several payment plans on offer. The most popular is the 20-year interest-free plan which can be accessed after a £1,000 GBP reservation fee and a 35% deposit in staggered payments over the build period – around 18 months. Keys in hand, for the most affordable apartment of £76,800, monthly payments could be as little as £208 GBP. Other plans are available including a zero deposit zero interest five-year term with monthly payments of £1,500 GBP for an entry level home. Contact Horizon Sky for a payment plan to suit your needs.
For more information, visit signatureinternational.co.uk.