View Africa's 'big five' on horseback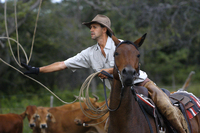 You can now get a whole new perspective on the African savannah as Ranch Rider's 2010 portfolio covers South Africa and Botswana.

Equine enthusiasts will be able to experience that dream gallop alongside herds of antelope, view the Big Five from the back of their chosen mount or go swimming with horses.

Tony Daly, Managing Director of Ranch Rider comments: "Horseback safaris compliment the traditional 4X4 encounter, as riders have a 360-degree view of Africa's wide open plains making game easier to spot. Noiseless and eco-friendly, they also offer opportunities to mingle with, as opposed to simply view the wildlife."

"Situated in the malaria free region of Waterberg, many of our new lodges are in close proximity allowing adventurers to combine experiences at more than one property. We've also included a selection of luxury camps, ideal for experienced riders who want to view the Big Five on horseback."

Ant's Hill and Ant's Nest are luxury bush homes situated in the malaria free region of Waterberg in South Africa. A unique experience, guests of varying ability can ride out together, as two guides accompany each group. Informative nature hikes, mountain biking, massage and clay pigeon shooting are alternative options.

Travellers can also "brush up on the bush" on historical farm tours before retiring to sumptuous accommodations - four poster beds, sunken baths and waterfall showers featuring at Ant's Hill. Full price 6-nights £1,980pp - now only £1,380pp with Ranch Rider. Discount available on stays at both bush homes from 01 January to 20 March 2010. The price includes full board accommodation, drinks, riding safari and game drives, use of facilities and taxes.

Looking for more of a challenge? Horizon Safaris' luxury Dinaka Lodge is situated in a private reserve in the Waterberg region. Described as one of South Africa's last untouched wildernesses it has recently been designated as a UNESCO biosphere reserve. Guests will have the opportunity to experience that once in a lifetime gallop alongside herds of antelope before kicking back at the lodge and sunbathing above the hippo dam.

Unique in terms of its terrain, riders can expect to see larger numbers of game when compared to other mountainous regions - herds of antelope and rhino appearing in one view. Bush walking and 4X4 game drives are available and the 4-night stay can be extended to incorporate a tented Big Five horseback adventure across Botswana's "Land Of Giants". Run in conjunction with Limpopo Valley Horse Safaris, the ride covers the remote Mashatu Game Reserve, which boasts regular sightings of lion, leopard, elephant and hyena.

Accommodation at the lodge includes, three deluxe bedrooms and two standard bedrooms, all of which overlook the picturesque Little Sand River. 4-nights from £1,040pp including accommodation, meals, drinks, riding safari's and game drives, use of facilities and taxes. 8-nights (including luxury tented camp extension) £2,040pp.

Horizon Horseback Safaris also offer stays at the Triple B. The working ranch features opportunities to participate in cattle mustering or guests can lose themselves on fast, extended canters across the open countryside. Swimming the horses in one of the nearby dams is an ideal alternative to cooling off in the ranch's pool and horse enthusiasts can also opt for individual pursuits, as private rides, flat work coaching, and cross country lessons are available on request.

Situated above a hippo dam, guests will never be far from the animal action and traditional Big Five game drives compliment the pursuit of riding. The accommodation is based in either the main lodge or one of three separate luxury rondavels. 6-nights from £900pp. Twin ranch stays (i.e. 4-nights at the Dinaka Lodge & 6-nights at the Triple B) can also be booked through Ranch Rider.

All prices exclude gratuities. Return flight from £695pp. For more information and bookings, visit ranchrider.com.