Top Limo firm takes delivery of 600 Ford Galaxy MPVs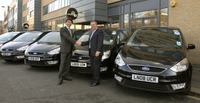 The first of 600 Ford Galaxy seven-seaters has been delivered to Addison Lee, the UK's biggest private hire and chauffeur company. The high-specification Ford Galaxy 2.0 TDCi auto models are set to enter service at the rate of about 60 per month until the year-end.

Two long-term Galaxy demonstrators have notched up around 30,000 miles each with London-based Addison Lee, which covers the entire M25 area and the capital's airports.

"We've had extremely good feedback from the drivers," says Addison Lee's fleet manager Rob Daniels. "They like the Galaxy's comfort, quietness, fuel economy and the flexible accommodation, including the five fold-flat seats. They're just good all round."
Addison Lee applies a strict environmental policy to its fleet. "The Galaxy fits in very well in terms of emissions and fuel consumption," he added.

Dagenham Motors' Edgware Road outlet in London is supplying the all-black, air-conditioned Ford Galaxy models, complete with customised telematics package and Xda handset holders. Purchased outright, the vehicles are expected to cover around 100,000 miles over two and a half years on the Addison Lee fleet.

"The new Galaxy's whole-life costs looked very favourable," said Managing Director Liam Griffin. He said that the decision to go with Galaxy had been made "because they're the most stylish MPV on the market, and that will appeal greatly to our customers".